The Leader in the Field
Salesforce is the world's #1 Customer Relationship Management (CRM) solution that brings customers and companies together.
Salesforce is one integrated CRM platform that gives all your departments — including marketing, sales, commerce, and service — a single, shared view of every customer.
PT. Metrodata Electronics has been certified to sell Salesforce products based on our expertise and experience with the Salesforce platform.
Customer 360 Platform: End to End Customer Centric Platform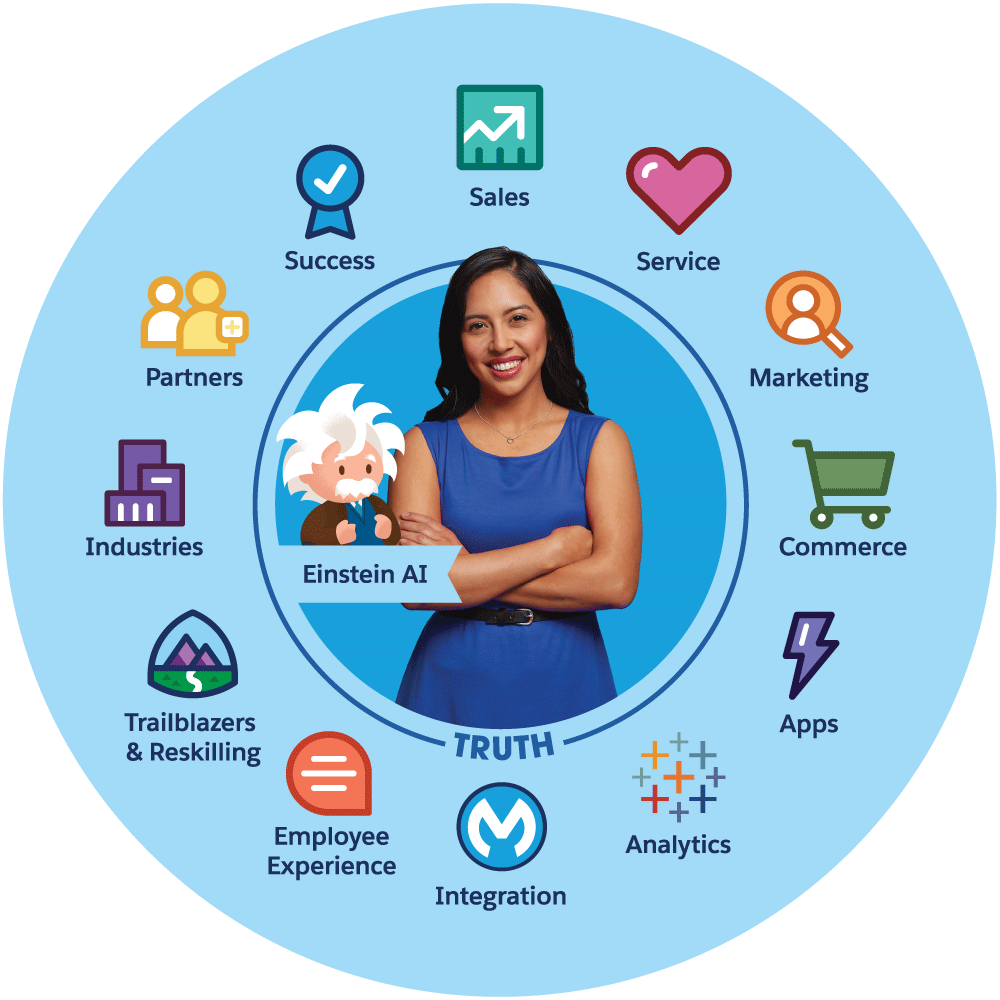 Sales
Grow your accounts, find new customers, and score more wins with Sales Cloud.
Move deals faster by tracking customer information and interactions in one place
Improve conversion rates by finding, nurturing, and converting more sales-ready leads
Accelerate productivity with AI, automatic data capture, and process automation — all in one console
Make more insightful decisions — faster, and from anywhere — with the most up-to-date information
Highlight top leads and suggest next steps using AI that separates deals won from deals lost
Service
Enhance your customer service — from call center software to self-service portals — with more responsive, intuitive, and flexible support that anticipates customer needs.
Solve customer problems and close cases faster from a single console screen
Provide faster service by helping customers find the answers they need on their own in self-service communities
Personalise customer care and predict needs using insights from customer behaviour
Provide conversational service over SMS, MMS, and group services with live messaging
Drive agent productivity while delivering connected, intelligent, and personalised service from the phone to the field
Marketing
Create exceptional cross-channel customer journeys that deliver personalised experiences across email, mobile, social, advertising, the web, and more.
Drive customer engagement by using CRM and other data to automate and personalise your email marketing at scale
Extend your digital marketing by adding mobile to your email and social campaigns
Create 1-to-1 customer journeys across email, mobile, social, ads, and the web that connect across marketing, sales, service, and more
Deliver exceptional social experiences by connecting them to marketing, sales, and service and analysing data from over a billion sources
Communities
Reimage how you connect and engage with your customers, employees and partners with personalized content recommended for every user. Get up and running quickly with templates and a robust console.
Customer Service. Help customers find answers themselves with knowledge base (Articles & F&Q), a self-service portal (create and manage cases and claims), or a forum conversation.
Partners Engagement. Help your partners to lead submission and manage the pipeline together (create and manage status opportunity), view the product and partner discount, tracing partner performance (target and achievement), enablement partner with your product.
Employee Community. Build the strong relationship with your employee as national wide, Access all information with autgenerated topic pages. Collect discussion, files, group. Easily submit the issue, get help more faster from the expert, manage their assets or specific skill and expertise.
Quip (Employee Experience)
If your business is still emailing documents from standalone word processing programs, or communicating in siloed apps, get ready to change how you work. Say hello to Quip, the secure productivity platform that transforms how teams work together. Quip combines documents, spreadsheets, and slides with real-time chat and Salesforce. Quip boosts team productivity by enabling cross-functional teams to discuss, revise, comment, and reach consensus on their work, from any device.
Integration
Unlock and integrate data from any system to deliver critical, time-sensitive projects.
Connect any system, Salesforce or not, whether in the cloud or on-premises, on a unified platform.
Break free from inflexible custom code and maximise business agility with application networks.
Allow teams to discover and reuse integration assets to build upon prior projects and address new business priorities.
Enable your entire ecosystem to create new revenue opportunities and customer experiences with packaged APIs.
Metrodata Specialization & Certification
Why should be Metrodata?
We have partnership since 2014 and the only Cloud reseller in Indonesia
We have 25 consultant certified & Dedicated Post Go Live Support team
More than 70 salesforce project
Has a proven track record in successful Infrastructure & application systems integration
Financial strength
ISO 9001:2015 Certified
Use Case:
Info lebih lanjut: sfdc@metrodata.co.id