Google Cloud Platform
Google Cloud Platform offers a large array of services that can be tuned to your business specific needs.
Cloud Computing with Google Cloud Platform (GCP)
Google Cloud Platform (GCP) offered by Google is a suite of cloud computing services that runs on the same infrastructure that Google uses internally for its end-user products such as Google Search, Gmail file storage and even Youtube. Alongside a set of management tools, it provides a series of modular cloud services including computing, data storage, data analytics and machine learning. GCP provides infrastructure as a service, platform as a service, and serverless computing environments.
Benefits of Google Cloud Platform (GCP)
GCP offers a large array of services that can be tuned to your business specific needs. With millions active customers and thousands of partners around the world, makes GCP as one of the largest cloud platforms in the world. With wide range of services offered by Google Cloud, it can help your business to transform digitally, solving business challenges with Google Cloud's customer-centric approach and providing you with infrastructure that has Higher Availability, Lower Latency and Better Security with Google's private network.
GCP Infrastructure Maps
GCP is running on 24 regions, 73 zones, 144+ network edge locations and more than 200 countries and territories worldwide. This year Google has successfully launch Jakarta Cloud Region.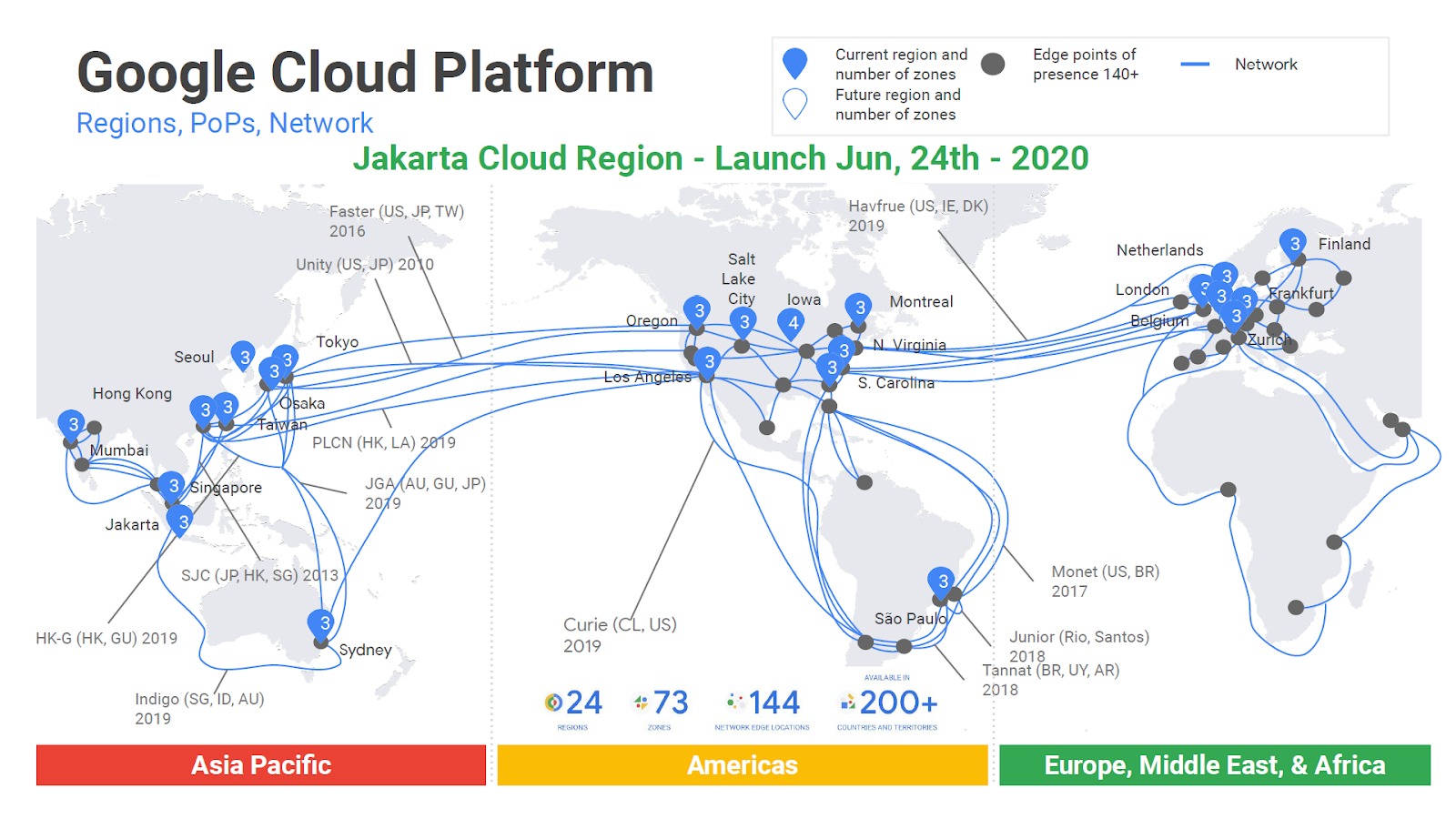 With all the benefits above, we can ensure you that Google Cloud Platform is the right solution to answer your business's challenges with Google owned network, infrastructure and internationally audited security systems to serve you the safest and fastest cloud computing.
Want to discuss more with us? Reach out to us with a simple click of email.