Metrodata Overview
PT Metrodata Electronics Tbk ("the Company") is engaged in the ICT business and is one of the leading companies in the field in Indonesia.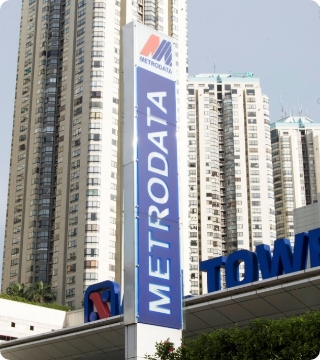 PT Metrodata Electronics Tbk ("the Company") listed its shares on the Indonesia Stock Exchange (IDX) since 1990 (IDX: MTDL) and is Indonesia's leading Information and Communications Technology (ICT) company. The Company has been maintaining strategic alliances with world-class information technology companies for more than 45 years.
The Company is well-known for its comprehensive portfolio of IT hardware and software distribution.
Currently, the Company has three main business lines, namely: the Distribution Business Unit that handles distribution to dealers, ICT solutions companies, and e-commerce; the Solution Business Unit that provides ICT total solutions from design, implementation, IT Managed Services, to consultation and training; and the Consulting Business Unit that offers innovative solutions for business transformation.
The Company offers digital business platform, cloud services, big data & analytics, business application, hybrid IT infrastructure, IT security, and other meerging technologies, including Internet of Things (IoT) ecosystem and artificial intelligence (AI) to assist clients to adapt and transform themselves in the digital world.
The Company is the only national ICT company listed in and received prestigious awards from some various media, such as Forbes Indonesia: Best of the Best 2020, The 50 Best Companies; Majalah Investor: Investor Awards 2020, Best Listed Company, Electronics Sector; and Majalah Warta Ekonomi – 4th Indonesia Living Legend Companies Award 2019:
Download Metrodata Company Profile: