UiPath
Robotic Process Automation
Robotic Process Automation (RPA) is the technology that allows anyone today to configure computer software, or a "robot" to emulate and integrate the actions of a human interacting within digital systems to execute a business process. RPA robots utilize the user interface to capture data and manipulate applications just like humans do. They interpret, trigger responses and communicate with other systems in order to perform on a vast variety of repetitive tasks. Only substantially better: an RPA software robot never sleeps, makes zero mistakes and costs a lot less than an employee.
Platform UiPath
Three robust components power the UiPath Platform:

UiPath Studio
Studio is where you design automations for Robots. Design is easy, using code-free recording tool or drag-and-drop from rich library of pre-built activities.

UiPath Orchestrator
Orchestrator is the central dashboard where you manage your digital workforce. Securely schedule, manage, and control your enterprise-wide digital workforce from either a web browser or a mobile app. Real-time monitoring keeps you on track with globally deployed automations and helps you plan required license purchases.

UIPath Robot
Robots are digital workers that run automations built in Studio and scheduled in Orchestrator. UiPath offers attended and unattended robots (or a mix of the two). Attended robots work in collaboration with users to automate front-office activities. Unattended robots work autonomously in the background or in virtual environments to automate back-end data processing activities
Benefits of RPA
Enabling RPA to handle any processes will not only transform and streamline your organization's workflow. It will allow for superior scalability and flexibility within the enterprise, doubled by fast, tailored response to specific needs.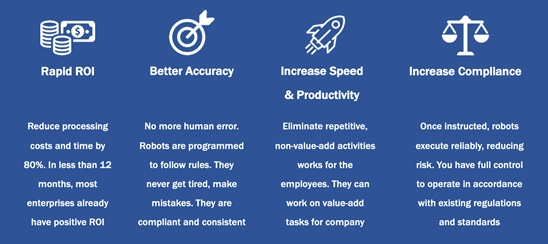 Why UiPath?
The UiPath Enterprise RPA Platform delivers rapid automation of manual, rules-based, repetitive processes. It's been used to automate millions of tasks for business and government organizations all over the world — improving productivity, customer experience, and employee job satisfaction with 100% accuracy. UiPath RPA reduce processing costs by up to 80%. In less than 12 months, most enterprises already have a positive return on investment, and potential further accumulative cost reductions can reach 20% in time.