Acronis Indonesia Appoints PT Synnex Metrodata Indonesia (SMI) as New Distributor in Indonesia
Acronis continues rapid expansion in emerging markets empowers service provider partners with comprehensive cyber protection solutions, while delivering faster access
Indonesia, Jakarta, Aug 19, 2021 – Acronis announced today that it has added PT. Synnex Metrodata Indonesia, a market leader in ICT products and solutions distributor in Indonesia, as a distributor for Indonesia, and a partner delivering the Acronis Cyber Cloud Data Center in Indonesia.
Acronis continues to intensify its investments and development in the Indonesian market, one of Acronis' key focuses in APAC, the fastest growing region. The opening of the Indonesian data center is part of the company's Global/Local Initiative, which includes global management for all data centers, geographic redundancy, control for local partners, and a local disaster recovery site – all with competitive pricing. As a result, service providers will have no trouble meeting the ever-changing compliance, data sovereignty, and performance requirements.
Synnex Metrodata Indonesia (SMI), a subsidiary of Metrodata Group, with a network spanning across 20 strategic areas in Indonesia covering 150+ cities, and 5200+ channel partners will now get Acronis comprehensive range of cyber protection solutions to users easily.
"As the market is moving forward rapidly to cloud solutions, Acronis' high-quality, cloud-based backup and cybersecurity software meets a critical need to secure the many remote workers in the current pandemic world," Lie Heng, Solution Business Director of PT Synnex Metrodata Indonesia. "We are excited to represent Acronis to bring integrated cyber protection solutions to Indonesia especially with the new Acronis cloud data center being launched in Jakarta. Through our partnership with Acronis, we will be able to unlock opportunities such as providing the most comprehensive cyber protection solution for our partners and customers, while providing efficiency, performance and reliability."
Acronis Cyber Protection solutions address the Five Vectors of Cyber Protection – ensuring the safety, accessibility, privacy, authenticity, and security (SAPAS) of data. This unique approach helps customers protect all of their data, applications, and systems, ensuring effective cyber protection and data management in the data center, cloud, and edge devices.
This comprehensive approach to cyber protection is increasingly important for organizations trying to succeed in today's IT industry. As revealed in Acronis' recently released Cyberthreats Report Mid-year 2021 update, four out of five organizations experienced a cybersecurity breach originating from a vulnerability in their third-party vendor ecosystem in just the first half of 2021. At the same time, the average cost of a data breach rose to around $3.56 million, with the average ransomware payment jumping 33 percent – to more than $100,000.
"In the wake of the fast-paced changes in Indonesian IT requirements, organizations are seeking modern solutions to modern cyber challenges." Aviantri Faiza, Acronis Indonesia Channel Head. "Having established more than four decades ago, SMI has shown impeccable performance as the largest and most innovative ICT distributor in Indonesia, with the biggest coverage and reliable business infrastructure system. We look forward to building a strong partnership with SMI and expanding Acronis' footprint in Indonesia."
Among the solutions now available through the new data center is Acronis Cyber Protect, a unique integration of backup, disaster recovery, next-gen antimalware, cybersecurity, and endpoint management tools – all managed via a single pane of glass. The solution is VB100 certified and its unique capabilities earned Acronis Cyber Protect the 2020 New Product Innovation Award for Data Protection from Frost & Sullivan.
"Acronis' market value has grown over $2.5 billion, our channel is also booming: number of our Service Provider partners has surpassed 10,000 and keeps growing rapidly across the world," said Neil Morarji, Acronis General Manager in APAC. "Indonesia is one of Acronis' key focuses in APAC, the fastest growing region. We have poured a large portion of recent $250 million investment into the Indonesian channel market and we will continue to help our partners expand their cyber protection capabilities."
Acronis recently announced a new round of investment of more than $250 million funding round from CVC Capital Partners VII and other investors, putting their valuation at $2.5 billion. The company has committed those funds to expand the support for cloud partners – providing additional sales and marketing resources, faster and localized technical support, dedicated partner success managers, and local data centers in 111 locations worldwide.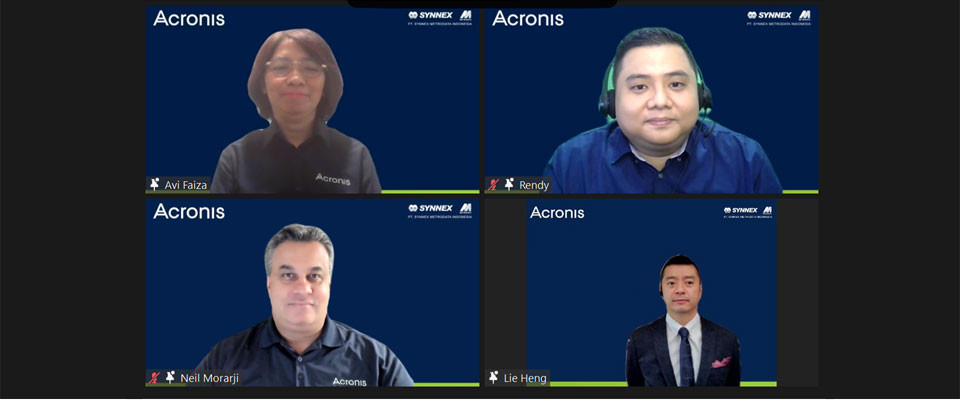 About Synnex Metrodata Indonesia (SMI)
PT Synnex Metrodata Indonesia ("SMI"), is a joint venture between PT Metrodata Electronics, Tbk. (IDX: MTDL) and Synnex Technology International Corp., established in early 2011. SMI focuses on ICT Distribution with 2 (two) businesses (Solution and Distribution), and has built strategic partnership with world-class information technology companies. SMI has seven distribution centers in Jakarta, Bandung, Surabaya, Semarang, Daerah Istimewa Yogyakarta, Medan, Makassar, and supporting logistics and sales force offices across major cities of Indonesia. With their efficient and effective services, supported by dealers and resellers, SMI are ready to serve various needs of customers. For more information about SMI, visit www.synnexmetrodata.com
About Acronis
Acronis unifies data protection and cybersecurity to deliver integrated, automated cyber protection that solves the safety, accessibility, privacy, authenticity, and security (SAPAS) challenges of the modern digital world. With flexible deployment models that fit the demands of service providers and IT professionals, Acronis provides superior cyber protection for data, applications, and systems with innovative next-generation antivirus, backup, disaster recovery, and endpoint protection management solutions. With advanced anti-malware powered by cutting-edge machine intelligence and blockchain-based data authentication technologies, Acronis protects any environment – from cloud to hybrid to on-premises – at a low and predictable cost.
Founded in Singapore in 2003 and incorporated in Switzerland in 2008, Acronis now has more than 1,600 employees in 34 locations in 19 countries. Its solutions are trusted by more than 5.5 million home users and 500,000 companies, including 100% of the Fortune 1000, and top-tier professional sports teams. Acronis products are available through 50,000 partners and service providers in over 150 countries in more than 40 languages.
For more information, please contact: