Acronis Launches First Cloud Data Center in Indonesia, opens way to Complete Control Over Data
New local data center equips service provider partners with comprehensive cyber protection solutions, while delivering faster access, greater data resiliency and sovereignty to their clients
Tentang Datacomm Cloud Business
Berdiri sejak 8 Oktober 2015, Datacomm Cloud Business merupakan salah satu divisi bisnis dari PT Datacomm Diangraha yang berfokus pada peluang bisnis cloud di Indonesia. Tujuan jangka panjang kami adalah untuk mendukung visi nasional Indonesia 4.0 dengan menyediakan infrastruktur digital yang dapat dihandalkan dan aman.
Datacomm Cloud Business didukung pengalaman lebih dari 30 tahun dengan lebih dari 500 tenaga profesional, dengan kekuatan komitmen keuangan yang kuat dan berinvestasi data center yang dimiliki sendiri yang dapat dipercaya untuk kelangsungan bisnis.
Datacomm Cloud Business juga telah tersertifikasi standar internasional: standard: ISO 9000, ISO 27001, ISO 20000, PCI DSS, DCOS-4, TIA-943 Rated 3 Certified, dan terdaftar sebagai penyedia layanan Cloud di Kementerian Komunikasi dan Informatika (Kemkominfo) untuk menjamin keamanan data. Untuk informasi lebih lanjut, silahkan kunjungi www.datacommcloud.co.id
Tentang Wowrack Indonesia
Wowrack Indonesia merupakan sebuah perusahaan IT yang menyediakan solusi IT berupa solusi Cloud, Data Center, dan layanan konektivitas. Dengan pengalaman di industry IT lebih dari 11 tahun, kami dapat memberikan solusi terbaik untuk memenuhi berbagai solusi IT seperti desain infrastruktur cloud, servis manajemen infrastruktur dan koneksi internet.
Wowrack pertama kali didirikan di Seattle in 2001 dengan hanya menawarkan dedicated dan shared hosting sebagai servisnya, lalu di tahun 2010 Wowrack berhasil melakukan ekspansi ke Indonesia dengan mendirikan data center. Sekarang, Wowrack Indonesia mempunyai 3 lokasi regional and 15 data center tersebar di seluruh dunia. Lebih dari 1000 customers telah mempercayakan kebutuhan IT mereka kepada Wowrack Indonesia. Dengan kepercayaan yang diberikan customer, kami terus berusaha meningkatkan kualitas pelayanan untuk semua customer Wowrack Indonesia.
Tentang SMI
PT Synnex Metrodata Indonesia ("SMI") adalah perusahaan gabungan antara PT Metrodata Electronics, Tbk (IDX: MTDL) dan Synnex Technology International Corp yang dibentuk pada awal tahun 2011. SMI fokus di bidang distribusi TIK dengan dua lini bisnis yaitu Solusi dan Distribusi, dan pengendalian dengan perusahaan TI kelas dunia. SMI memiliki tujuh sentra distribusi antara lain di Jakarta, Bandung, Surabaya, Semarang, Yogyakarta, Medan, dan Makassar serta didukung kantor pusat logistik dan tenaga penjualan yang tersebar di seluruh kota-kota besar di Indonesia. Dengan layanan yang efisien dan efektif, serta didukung oleh dealer dan reseller, SMI siap melayani berbagai kebutuhan para pelanggannya. Informasi lengkap mengenai SMI, silahkan kunjungi www.synnexmetrodata.com
Tentang Acronis
Acronis menyatukan perlindungan data dan keamanan siber untuk menghadirkan perlindungan siber yang otomatis dan terintegrasi untuk memberikan solusi atas tantangan keselamatan, aksesibilitas, privasi, keaslian, dan keamanan (SAPAS) di dunia digital modern. Dengan model penerapan fleksibel yang sesuai dengan tuntutan penyedia layanan dan profesional TI, Acronis memberikan perlindungan siber yang unggul untuk data, aplikasi, dan sistem dengan menyediakan antivirus, pencadangan, pemulihan bencana, dan solusi manajemen perlindungan di titik akhir yang inovatif. Dengan anti-malware canggih yang didukung oleh kecerdasan mesin mutakhir dan teknologi otentikasi data berbasis blockchain, maka Acronis melindungi lingkungan apa pun – mulai dari cloud hingga hybrid hingga lokal – dengan biaya rendah dan dapat diprediksi.
Acronis didirikan di Singapura pada tahun 2003 dan didirikan di Swiss pada tahun 2008, Acronis kini memiliki lebih dari 1.600 karyawan di 34 lokasi di 19 negara. Solusi Acronis dipercaya oleh lebih dari 5,5 juta pengguna rumahan dan 500.000 perusahaan, termasuk 100% dari Fortune 1000, dan juga tim olahraga profesional papan atas. Produk Acronis tersedia melalui 50.000 mitra dan penyedia layanan di lebih dari 150 negara dan menggunakan lebih dari 40 bahasa.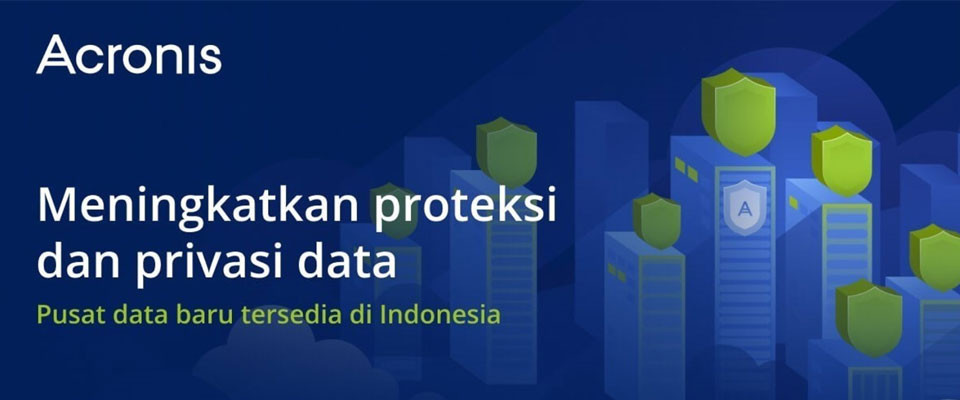 About Datacomm Cloud Business
Founded on Oct 8 2015, the Datacomm Cloud Business is business division of PT Datacomm Diangraha which focusing on cloud opportunity in Indonesia. Our long term goal to support Indonesia 4.0 national vision by providing nation-wide reliable, dependable, and secure digital infrastructure.
We are backed up by 30 years of experience and more than 500 professional people. With strong financial commitment and invested in it owns local Data Center you can rely your business continuity with us.
We also certified by international standard: ISO 9000, ISO 27001, ISO 20000, PCI DSS, DCOS-4, TIA-943 Rated 3 Certified, and registered in Kemenkominfo as Indonesian Cloud Service Provider Operator to make sure you have confidence in your data security. For further information about Datacomm Cloud Business, you can visit datacommcloud.co.id.
About Wowrack
Wowrack Indonesia is an IT company that provides Cloud solution, Data Center, and Connectivity services. With our experience in the IT industry for more than 2 decades, we deliver the best solution for our customers needs such as Cloud Infrastructure design, Infrastructure Management Service, and Internet Services. Our IT experts will guide you to build your IT infrastructure step by step, start from assessment and discovery, planning, backup and restore, to data synchronization.
Wowrack was firstly found in Seattle in 2001 by offering dedicated and shared hosting only and in 2010 Wowrack succeeded to expand to Indonesia with Data Center as the service. Now, Wowrack has 3 regional locations and 15 Data Centers spread worldwide. More than 1000 customers have trusted their IT needs to Wowrack Indonesia. With the given trust, we keep on increasing our services quality for our customers.
About SMI
PT Synnex Metrodata Indonesia ("SMI"), is a joint venture between PT Metrodata Electronics, Tbk. (IDX: MTDL) and Synnex Technology International Corp., established in early 2011. SMI focuses on ICT Distribution with 2 (two) businesses (Solution and Distribution), and has built strategic partnership with world-class information technology companies. SMI has seven distribution centers in Jakarta, Bandung, Surabaya, Semarang, Daerah Istimewa Yogyakarta, Medan, Makassar, and supporting logistics and sales force offices across major cities of Indonesia. With their efficient and effective services, supported by dealers and resellers, SMI are ready to serve various needs of customers. For more information about SMI, visit www.synnexmetrodata.com
About Acronis
Acronis unifies data protection and cybersecurity to deliver integrated, automated cyber protection that solves the safety, accessibility, privacy, authenticity, and security (SAPAS) challenges of the modern digital world. With flexible deployment models that fit the demands of service providers and IT professionals, Acronis provides superior cyber protection for data, applications, and systems with innovative next-generation antivirus, backup, disaster recovery, and endpoint protection management solutions. With advanced anti-malware powered by cutting-edge machine intelligence and blockchain-based data authentication technologies, Acronis protects any environment – from cloud to hybrid to on-premises – at a low and predictable cost.
Founded in Singapore in 2003 and incorporated in Switzerland in 2008, Acronis now has more than 1,600 employees in 34 locations in 19 countries. Its solutions are trusted by more than 5.5 million home users and 500,000 companies, including 100% of the Fortune 1000, and top-tier professional sports teams. Acronis products are available through 50,000 partners and service providers in over 150 countries in more than 40 languages.