Eaton Builds Partnership with SMI to Expand the Market and Present a Comprehensive Portfolio
Support Indonesia Business Anticipating the Digital Age Challenges, Eaton Builds Partnership with SMI to Expand the Market and Present a Comprehensive Portfolio
Through a partnership with Synnex Metrodata Indonesia (SMI), Eaton will reach businesses in more than 150 cities in 20 strategic regions in Indonesia
Eaton introduces UPS 9PX as an adaptive power management solution to the demands of the digital age and IoT
Jakarta, November 5, 2020– Eaton, the world's leading power management company, stated that the company is committed to strengthening its business commitment to Indonesian market. As an affirmation of this commitment, Eaton establishes a strategic partnership with Indonesia's leading distributors of ICT product and solutions, Synnex Metrodata Indonesia (SMI) due to business expansion in Indonesia.

Isabel Chong, Country Manager Eaton for Indonesia, Singapore, and Malaysia said that Indonesia is a very important market for Eaton. Therefore, through comprehensive and industry-leading products, Eaton is determined to continue expanding the distribution of its advanced technologies and innovations in Indonesia market in order to provide effective solutions to businesses in the country which is now experiencing accelerated digital transformation.

"In addition to being reliable as a solution that ensures an interruption-free power supply, Eaton's technology, which we developed, is also designed to address various challenges faced in digital age, including virtualization, data center protection, and cybersecurity with its innovative features," Isabel said. "To expand our technology distribution, and to better understand unique and specific local needs, we are proud and optimistic to build partnerships with Synnex Metrodata Indonesia (SMI) that has long experience in understanding the challenges and also the solutions that Indonesia's business world needs."

Regarding the partnership and Eaton's commitment to expand its market reach in Indonesia, Lie Heng, Solution Director of Synnex Metrodata Indonesia said, "Eaton's opportunity to expand its business in Indonesia remains very open. Businesses in Indonesia is in digital transformation era. They need to build infrastructure powered by leading technologies to support business sustainability. Eaton's products that feature energy-efficient power protection, intelligent power management software, and the ability to support cybersecurity, are in line with the trend of business needs in Indonesia that increasingly rely on big data, cloud and virtualization, artificial intelligence, machine learning and IoT."

Lie Heng added that with support from SMI and more than its 5,200 channel partners, Eaton's intelligent technology and innovation will reach businesses in more than 150 cities in 20 strategic areas of Indonesia. Through this partnership, SMI will also provide sales and logistics support, including technical advisors and professional engineers who are able to provide solutions for their business partners. Eaton and SMI will work closely together to offer smart solutions through SMI's strong network throughout Indonesia through a variety of activities, including training, webinars, and conferences and exhibitions.

Eaton Launches 9PX UPS, a Smart Solution for Businesses in a Connected Digital Age
Marking its seriousness in expanding the distribution of comprehensive power management solutions for business in Indonesia, in addition to building partnerships with SMI, Eaton also introduces one of its latest advanced products, Eaton UPS 9PX. It is an interruption-free power supply product intended as a solution for SMB-scale businesses, including businesses in the financial services, retail and franchise, healthcare, and small and medium-sized creative industries that have adopted digital-based infrastructure that is integrated and connected to its business ecosystem.

Raden Dadang Kadarsyah, Field Application Engineer, Power Quality, Electric Sector, Eatonsaid, "The Eaton 9PX UPS provides energy-efficient power protection for small & medium Datacenters, IT rooms and Infrastructure. Delivering double conversion protection with 40% less energy usage, 9PX is the perfect UPS for IT and Facility managers that are concerned by energy cost and are looking for next generation power protection solutions."

The key advantages of Eaton UPS 9PX:
More Power-- Eaton 9PX (1-3kVA) is the first UPS in its class to provide Unity power factor (VA=W). It delivers 11% more power than any other UPS as well as powering more servers with equivalent VA ratings and lower power factors.
Energy Efficient-- Energy Star qualified, the Eaton 9PX provides the highest efficiency level to reduce energy and cooling costs. 9PX can meter energy consumption right down to the managed outlet groups. kWh values can be monitored using the LCD or Eaton's Intelligent Power Software.
Pay as you grow-- The 9PX (5-11kVA) can be paralleled to achieve twice the power of unitary product using HotSync technology, without extra cost on the initial purchase.
Virtualization-ready-- With an optional network card and Eaton's Intelligent Power® Software Suite compatible with all major OS 9PX seamlessly integrates with leading virtualization environments and cloud orchestrations tools.

Eaton UPS 9PX is also equipped with Intelligent Power Manager (IPM) Software. By incorporating Eaton's Intelligent Power Manager (IPM) software, you get the tools needed to monitor and manage power equipment in your physical and virtual environments, keeping IT devices up and running during a power or environmental event.

Moreover, UPS with Eaton latest Network Card First Cyber Security Certified by UL-2900 will secure or defend network of Customer from potential Cyberattacks.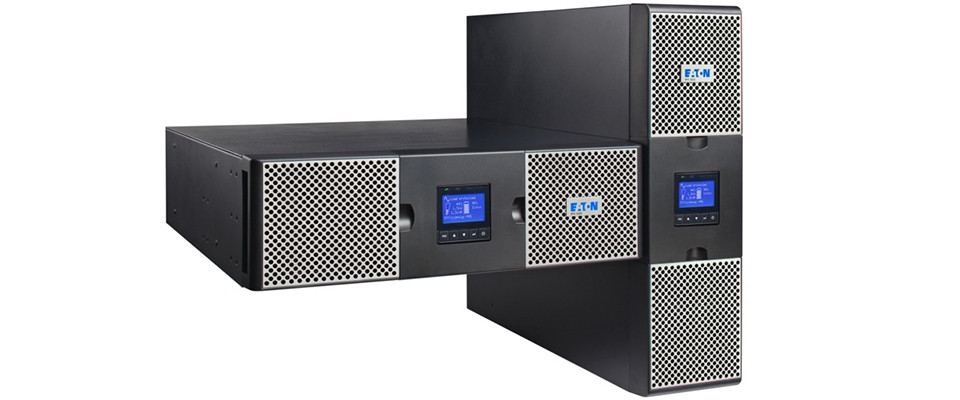 About Eaton
Eaton's electrical business is a USA base market leader with deep regional expertise in Power Quality backup power and energy storage, Power Distribution, circuit protection, control and automation, life safety and security, structural solutions and harsh and hazardous environment solutions. Through end-to-end services, channel and an integrated digital platform, Eaton is powering what matters across industries and around the world, helping customers solve their most critical electrical power management challenges.
Eaton's 2019 revenues were $21.4 billion, and we sell products to customers in more than 175 countries and is 109 years. We have approximately 93,000 employees. For more information, visit Eaton.com.
About PT Synnex Metrodata Indonesia
PT Synnex Metrodata Indonesia ("SMI"), a joint venture agreement between PT Metrodata Electronics, Tbk. (IDX: MTDL) and Synnex Technology International Corp., established in early 2011. SMI focuses on ICT Distribution with 2 (two) of businesses: Solution and Distribution, and has built strategic partnership with world-class information technology companies. SMI has seven distribution centers in Jakarta, Bandung, Surabaya, Semarang, Daerah Istimewa Yogyakarta, Medan, Makassar, and supporting logistics and sales force offices across major cities of Indonesia. With their efficient and effective services, supported by dealers and resellers, SMI are ready to serve various needs of customers. For more information about SMI, visit www.synnexmetrodata.com.