Increase in Demand for Digitalization During the Pandemic Supported MTDL Business
Net Profit Per 31 December 2020 (Audited) Reached IDR364.9 Billion
Jakarta, 9 April 2021 – Throughout the 2020 pandemic, the business of PT Metrodata Electronics Tbk ("MTDL" / "The Company"), an Information and Communication Technology ("ICT") issuer in the field of digital solutions and hardware and software distribution, was supported by the trend of increasing demand for digitalization throughout Indonesia.
The Covid-19 pandemic became the momentum for acceleration of the development of digitalization and ICT in Indonesia. The pandemic has shifted the habitual patterns of consumers and businesses. The new normal requirement for various activities to be conducted from home, whether for work, school, and other activities created a higher dependency to ICT aspects. The Ministry of Communication and Information reveal that throughout the pandemic internet traffic had increased 15-20 percents*1).
Susanto Djaja as the President Director of MTDL explained, "The Covid-19 pandemic does drive the demand for digitalization to increase faster. This is demonstrated by several of MTDL's products and services that experienced an increase in demand. Even one of the types of products that MTDL distribute such as notebooks are experiencing scarcity from the global factory supply side. So demand for ICT products increased but it is not supported by the availability of products, especially for notebooks."
From the business side, aside from the increasing need for ICT equipment and services, the digitalization trend also increased demand for various services, such as: Cloud Services, Big Data & Analytics, Security, Hybrid IT Infrastructure, Business Application, Digital Business Platform, Consulting & Advisory Services, Managed Services. This comes naturally since the optimization of ICT or digitalization would enable businesses to survive in the middle of a pandemic, it can even support Indonesia's economic growth in the post-pandemic future.
In terms of financial performance, Randy Kartadinata, the Finance Director of MTDL explains, "Based on our audited financial reports per 31 December 2020, MTDL managed to record a revenue of IDR14.0 trillion. Despite the slight correction of revenue of 7.0% compared to 2019, MTDL managed to book net profit of IDR364.9 billion, an increase of 2.2% compared to the previous year. Which means, the Net Margin in 2020 had improved compared to 2019, and increase from 2.4% into 2.6%.
The improved Net Margin was mostly due to the increase of contribution from sales in the Solution and Consulting business unit which produced a better gross profit margin. The portion of revenue contribution from the Solution and Consulting business unit increased from 22% in 2019 to 25% in 2020 compared to revenue contributed by the Distribution business unit. Additionally, the shortage of IT product, especially notebook computers, have also driven prices to increase in the market allowing the Company to enjoy a better profit margin in the Distribution business unit.
MTDL's strategy in overcoming the scarcity of hardware products, especially notebooks is by offering alternatives in the form of substitution products such as chromebooks, smartphones, and others. With MTDL's diversification of products which consists of more than 100 brand and with the gradual process of recovery for notebook production at the factory level, the Company is optimistic that MTDL sales will be even more better in 2021.
On the other hand, MTDL exhibits a very healthy cash position and it had reached IDR1.8 trillion in 2020 or a 144% increase YoY. In addition, MTDL's bank loans have also decreased 92% YoY to IDR15.9 billion. Randy added, "With its current cash position, MTDL is able to make use of the cash it receives to finance its working capital, make capital expenditure, and also pursue opportunities to make new investments (unorganic growth) to support MTDL's business growth."
"In the future, along with the roll out of the vaccination by the government in preparation for the economic recovery, and supported by the accelerated priority agenda of the National Digital Transformation for the 2020-2024 period, MTDL is optimistic that it will perform better with sales expected to increase by 8% and net profit to increase by 10% in 2021 with the increase demand from digitalization," Susanto concluded.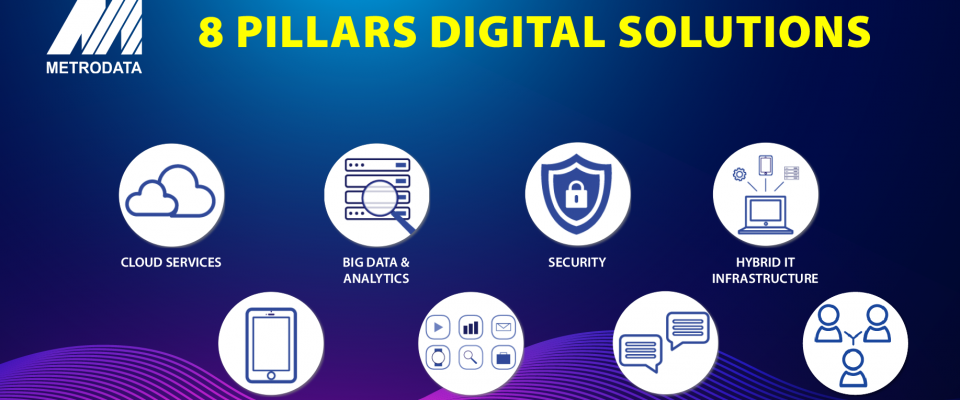 About PT Metrodata Electronics Tbk
PT Metrodata Electronics Tbk ("the Company") a public listed company in Indonesian Stock Exchange since 1990 (IDX: MTDL) is a well-known Information and Communication Technology (ICT) company in Indonesia that partners with world-class ICT companies. The Company currently has its main business unit which is the Distribution Business (Providing World-Class ICT Hardware and Software) that handles distribution to the dealers and ICT solution companies as well as running an e-commerce business. The distribution network covers more than 150 cities across Indonesia and has more than 5,200 channel partners with more than 100 brands of world-class IT products and services; the Solution and Consulting Business (Digital Solution Provider to Help Companies Achieving Digital Transformation) provides complete ICT solutions based Metrodata's 8 pillars of Digital Solution, which are Cloud Services, Big Data & Analytics, Hybrid IT Infrastructure, Security, Business Application, Digital Business Platform, Consulting & Advisory Services, and Managed Services to support digital business transformation.
For further information, please contact: