Metrodata announces triple-digit growth following Strategic Collaboration Agreement with AWS
First systems integrator in Indonesia to attain the AWS Migration Competency
Indonesia, 7 June 2023: PT Metrodata Electronics Tbk (IDX: MTDL or "Metrodata"), an information and communications technology (ICT) company specializing in digital solutions and hardware and software distribution, announced today that the company has grown its Amazon Web Services (AWS) business by 257% since signing a Strategic Collaboration Agreement (SCA) in October 2021 with the world's most comprehensive and broadly adopted cloud.
In the past sixteen months, Metrodata helped more than 60 Indonesian organizations in the financial services, manufacturing, distribution, retail, public services, and non-profit industries digitally transform using AWS. These include companies like Garudafood, Indonesia's leading food and beverage company, and PT Mulia Boga Raya Tbk, an Indonesian dairy products manufacturer.
To meet increasing customer demand for cloud services, Metrodata has set up a dedicated Cloud Center of Excellence (CCOE). The CCOE closely works with AWS experts to help Indonesian customers , accelerate their move to AWS Cloud to drive innovation, increase productivity, optimize costs, and grow their business.
Digital skills are crucial to helping Indonesian businesses transform using the cloud. A recent study commissioned by AWS and conducted by Gallup found that 82% of organizations in Indonesia employing workers with advanced digital skills report higher revenue growth, but 86% of organizations are facing hiring issues. To help close this skills gap, Metrodata trained more than 100 technical and non-technical employees to become AWS certified or accredited since signing the SCA with AWS. All new employees are trained on AWS Cloud through AWS Training and Certification modules and programs like AWS Skill Builder, an online learning center where individuals can learn from AWS experts and build cloud skills online.
In May 2023 as part of the SCA with AWS, Metrodata achieved its latest milestone, becoming the first systems integrator in Indonesia to attain the AWS Migration Competency, strengthening Metrodata's ability to help customers migrate mission critical workloads to AWS, regardless of complexity level, while mitigating risk, increasing agility, and improving security. The AWS Competency Program validates and promotes AWS Partners who have demonstrated AWS technical expertise and proven customer success.
"Our Strategic Collaboration Agreement with AWS has helped us meet the increasing demand from customers to adopt a cloud-first approach to drive digital transformation," said Alexander Kuntoro, President Director, PT Mitra Integrasi Informatika, a subsidiary of PT Metrodata Electronics Tbk. "With AWS, we have digitally upskilled our workforce, created a dedicated AWS Cloud Center of Excellence, and developed the resources to grow our AWS business three-fold in only 16 months. Achieving the AWS Migration Competency is the latest milestone on our ten-year cloud journey with AWS and will help us deliver even more cloud transformation projects to local businesses, unlocking the next phase of Metrodata's growth."
"Metrodata has been a valued AWS Partner since 2013, with a proven track record in delivering digital transformation projects in Indonesia," said Kirsten Gilbertson, Partner Sales Lead, ASEAN, AWS. "Entering a strategic collaboration agreement with AWS turbocharged Metrodata's growth and continues to help customers adopt cloud services using AWS's world-class infrastructure, including the AWS Jakarta Region. We are committed to supporting partners with our skills and expertise to digitally transform local businesses using the cloud, and Metrodata achieving the AWS Migration Competency is the latest example of this continued collaboration."
Since joining the AWS Partner Network (APN) in 2013, Metrodata has delivered more than 80 AWS Cloud transformation projects, including SAP HANA Cloud migrations, application modernization and development, and data warehousing and visualization solutions. In 2021, Metrodata migrated the SAP workloads of PT Fajar Surya Wisesa Tbk, one of the biggest paper manufacturing companies in Indonesia, to AWS.
"Migrating SAP to AWS has helped us save more on IT infrastructure and maintenance costs, since we are able to pay as what we need, while improving many cores business processes," said Ishak Surjana, Chief Technology Officer, PT Fajar Surya Wisesa Tbk. "We're excited to continue our cloud transformation journey with Metrodata and AWS to better serve customers with innovative services in the future," continued Ishak.
Through the SCA with AWS, Metrodata are aiming to achieve additional solutions competencies in 2023, and serve more than 100 AWS customers in Indonesia, while targeting more than USD 10 million worth of AWS business value in 2023.
Find out more about AWS Metrodata: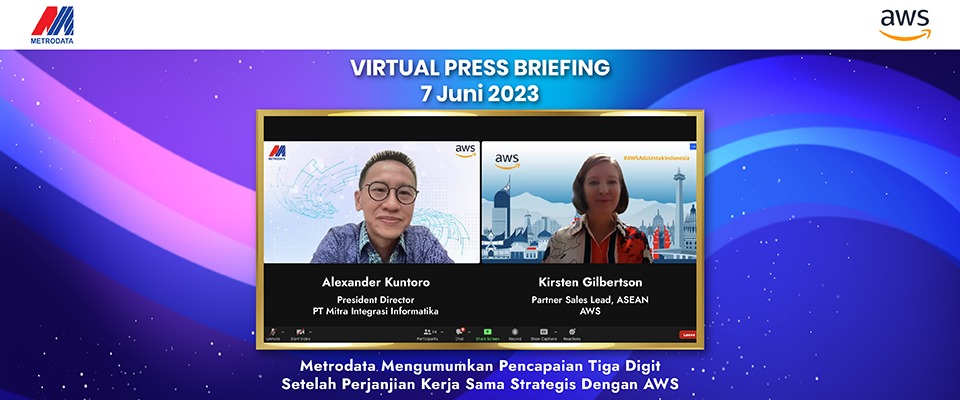 About PT Metrodata Electronics Tbk
PT Metrodata Electronics Tbk (the "Company") a public company whose shares have been listed on the Indonesia Stock Exchange since 1990 (IDX: MTDL) is a leading Information and Communication Technology (ICT) company in Indonesia partnering with world-class ICT companies. The Company currently has a main business unit, namely the Distribution Business (Providing World-Class ICT Hardware and Software) which responsible for distribution business to dealers and ICT solution providers, as well as the operations of the company's e-commerce sites. Its distribution network is in more than 330 cities in Indonesia, over 6,000 channel partners, and over 100 world-class IT product and service brands; Business Solutions & Consulting (Digital Solution Provider to Help Companies Achieving Digital Transformation) which provides complete ICT solutions based on the 8 Pillars of Digital Metrodata Solutions, consisting of Cloud Services, Data & AI, Hybrid IT Infrastructure, Cybersecurity, Business Application, Digital Business Platform, Consulting & Advisory Services, and Managed Services to support business digital transformation.