MTDL AGMS Approves an Increase in Dividend Payout Ratio from 25.30% to 30.67%, or Around IDR 178.01 billion
Optimistic that the Corporate Market for IT Solutions is Still Prospective in 2023
Jakarta, May 30 2023 — Shareholders of PT Metrodata Electronics Tbk ("MTDL") approved the distribution of dividends of IDR 178.01 billion, which is the highest dividend in the history of the Company. The Annual General Meeting of Shareholders (AGMS) which was held in Jakarta on Tuesday, 30 May 2023 approved the distribution of 30.67% of the 2022 net profit attributable to the Company as dividends, so that each shareholder will receive IDR 14.5/share.

"We are proud to say that this is the largest dividend distribution in the history of the Company, which is also a form of our appreciation to the shareholders who have faithfully worked together to develop a sustainable MTDL business," said President Director of MTDL, Susanto Djaja.

The AGMS of the Listed Company of Digital Information and Communication Technology (ICT), especially in the field of Digital Solutions and Consulting and Digital Distribution, also decided that 69,33% of net profit in 2022 or IDR 402,5 billion is designated as retained earnings.

In 2022, MTDL posted revenue of IDR 20.9 trillion which is the highest revenue in the history of the Company. The 2022 revenue grew 13.4% YoY. From this revenue, the Company booked a net profit of IDR 580.5 billion, an increase of 14.1% compared to 2021's net profit.

The company sees that the Digital Solutions and Consulting business in 2023 will still be prospective, especially related to the increasing awareness of business people on the importance of IT Security. MTDL sees the phenomenon of increasingly global cyber‐ attacks as a challenge to provide ICT solutions that are innovative and relevant to current technological transformation developments, such as IT Security. The Company also takes adaptive steps in response to the need for ICT solutions such as providing Cloud Hyperscalers (Azure, AWS, Google Cloud), as well as software subscriptions and SaaS (Software as a Service).

Meanwhile, MTDL's subsidiary in the field of Digital Distribution Business, PT Synnex Metrodata Indonesia, in early May established a partnership with a local producer software for IT infrastructure management and cloud computing, PT Awan Komputasi Teknologi. Through this partnership, PT Synnex Metrodata Indonesia will act as a Value‐Added Distributor to market Cloud Management Platform (CMP) and Hyper Converged Infrastructure (HCI) solutions to all size of companies (large, small and medium), public sector, government, private Cloud, and Cloud service providers that supports the government's program to Increase the Use of Domestic Products (P3DN).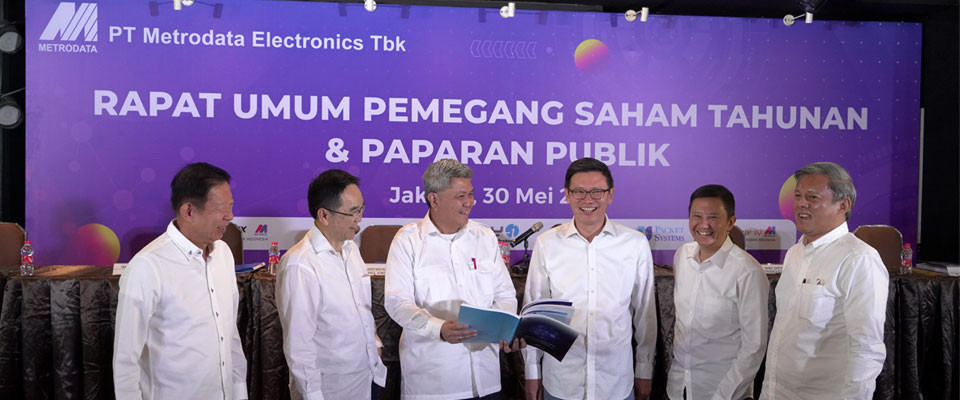 About PT Metrodata Electronics Tbk
PT Metrodata Electronics Tbk ("the Company") a public listed company in Indonesian Stock Exchange since 1990 (IDX: MTDL) is a leading provider of solutions and consulting services, as well as the distribution of Information and Communication Technology (ICT) and Digital products and services in Indonesia, partnering with world‐ class ICT companies.

It currently has its main business which is the Digital Distribution Business (Providing World‐Class ICT Hardware and Software) that handles distribution to the dealers and ICT solution companies as well as running an e‐ commerce business. The distribution network covers more than 330 cities across Indonesia and has more than 6,000 channel partners with more than 100 brands of world‐class IT products and services.

Another main business is the Digital Solutions and Consulting Business (Digital Solution Provider to Help Companies Achieving Digital Transformation) provides complete IT solutions based Metrodata's 8 pillars of Digital Solution, which are Cloud Services, Data & AI, Hybrid IT Infrastructure, Cybersecurity, Business Application, Digital Business Platform, Consulting & Advisory Services, and Managed Services to support digital business transformation.
For further information, please contact: