MTDL Continues to Develop Artificial Intelligence for Business in Indonesia
The Largest MTDL Revenue & Profit as of 31Dec2020 at IDX Techno
Jakarta, September 6, 2021 - PT Metrodata Electronics Tbk ("MTDL"), an Information and Communication Technology ("ICT") issuer in the field of digital solutions and hardware and software distribution, continues to intensively innovate and offer a range of Artificial Intelligence (AI) and Machine Learning solutions to assist various industries in responding to complex business challenges through advanced analysis (predictive and prescriptive).
A series of solutions developed by Metrodata cover a variety of high-value use cases for every line of business, from sales and marketing, supply chain, production, quality and maintenance, logistics, marketing, to support functions such as HR and finance.
"The utilization of AI and Machine Learning can bring out significant impacts and advantages to companies. Daily operational to board-level decision-making process will be supported by various data-based solutions which offer effectiveness and accuracy," said Head of Big Data & Analytics MTDL, Bernardy Suhendra.
For example, Supply Chain & Production Department can utilize ML-Based Demand Forecasting which is able to predict market demand for the coming period accurately, reduce excess stock, prevent stock-outs stock, and accurately predict the amount of in-demand products and the delay caused refilling process. On the other hand, Marketing Department can use Promotion Effectiveness which employs AI and allows organizations to effectively use data collected from previous promotions, measure effectiveness, and create recommendations for future promotions based on calculated predictions. Customer Profiling is another tool that helps to develop marketing campaigns, design overall marketing strategy and planning, and help companies understand the characteristics of their costumers.
The development of technology, which has been very rapid, has forced business owners to formulate new strategies to update the process in every line of their businesses. Furthermore, the Covid-19 pandemic has also triggered massive changes in different industries. Customers' preference has changed due to the pandemic. These days, the majority of costumers tend to be more cautious in buying a product, and this has resulted in a shift in consumer behavior. The adaptation and development of analytics based on Artificial Intelligence, Machine Learning, and Deep Learning (AI, ML, & Deep Learning) are more urgent than ever as the technology can help businesses adapting with its ability in business forecasting, decision making, automation, and recommendations, both for strategic and operational needs.
Fast-Moving Consumer Goods (FMCG) and manufacturing are several industries that can take advantage of AI. The integration of AI in these industries can offer many advantages, including streamlining operations in production, distribution, and consumption processes. Industries in these sectors possess a huge amount of data, both from traditional company as well as data from IoT (Internet of Things) devices. Unfortunately, there are still companies that face difficulty in using and processing these data and turning the AI investments into profits.
Metrodata has implemented various AIML-based solutions FMCG and manufacturing sectors. For example, one multinational FMCG company has utilized Image Detection solution integrated with WhatsApp API to create a Deep Learning model that detects the availability of products on a store's shelf or chiller with up to 97% accuracy. In addition, Metrodata has also worked with a motorcycle manufacturing, assembling, and distribution companies to implement Employee Recommendation for Promotional Status that recommends the employees who are most deserving of promotion.
"Metrodata will continue to innovate and provide the most updated solutions for businesses and companies to answer technological challenges. With efficiency and effectiveness offered by AI, market for every industry will become even more competitive and subsequently create a healthy business ecosystem," concluded Sjafril Effendi as President Director of MII and Director of MTDL.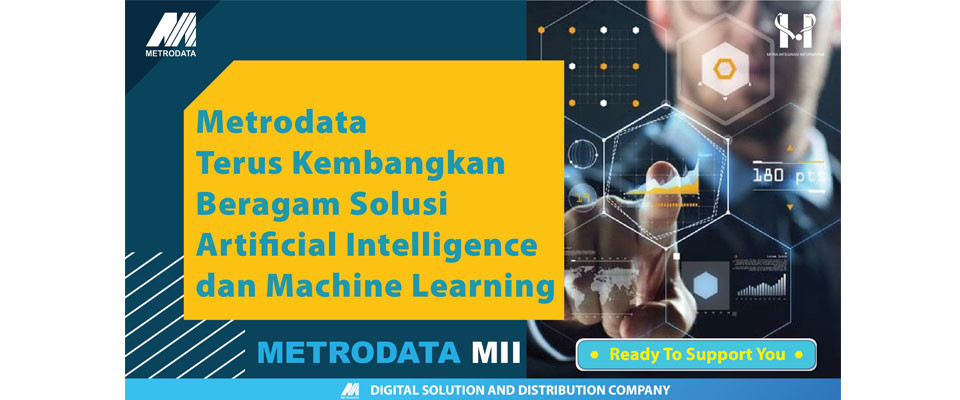 About PT Metrodata Electronics Tbk
PT Metrodata Electronics Tbk ("the Company") a public listed company in Indonesian Stock Exchange since 1990 (IDX: MTDL) is a well-known Information and Communication Technology (ICT) company in Indonesia that partners with world-class ICT companies. The Company currently has its main business unit which is the Distribution Business (Providing World-Class ICT Hardware and Software) that handles distribution to the dealers and ICT solution companies as well as running an e-commerce business. The distribution network covers more than 150 cities across Indonesia and has more than 5,200 channel partners with more than 100 brands of world-class IT products and services; the Solution and Consulting Business (Digital Solution Provider to Help Companies Achieving Digital Transformation) provides complete ICT solutions based Metrodata's 8 pillars of Digital Solution, which are Cloud Services, Big Data & Analytics, Hybrid IT Infrastructure, Security, Business Application, Digital Business Platform, Consulting & Advisory Services, and Managed Services to support digital business transformation.
For further information, please contact:
Randy Kartadinata

Corporate Secretary

Phone: (62-21) 29345 888

LinkedInd: PT Metrodata Electronics Tbk

IG: @metrodata_electronics

FB: Metrodata




Melani Dwi Nastiti / Gita Hardiyanti

Public Relations / Media Relations

Phone: (62-21) 29345 888 / Gita: (62) 81282033227

Email : Melani.Nastiti@metrodata.co.id