MTDL Introduces 'Omnichannel' Solution Through Its Subsidiary, MII
The Largest MTDL Revenue & Profit as of 31Dec2020 at IDX Techno
Jakarta, August 2, 2021 - PT Metrodata Electronics Tbk ("MTDL"), an Information and Communication Technology ("ICT") issuer in the field of digital solution & distribution is aggressively innovating in the current economic conditions which is recovering along with the increasing vaccination rate of the Indonesian people in the last few months. One of innovations is by introducing Omnichannel solutions through MTDL's subsidiary, namely PT Mitra Integrasi Informatika ("MII").
MTDL, based on data as of December 31, 2020, is the largest issuer in terms of Revenue and Net Profit of the 17 issuers in the technology sector listed on the Indonesia Stock Exchange (IDX Techno), identified that in this digital era, many companies would need integrated facilities and infrastructure to deliver experiences transaction or shop for its customers in a manner that is seamless, interactive, online, and personal through various channels (Omnichannel).
With conditions allowing shopping to be done from anywhere, then a variety of facilities and access to information through websites and various social media channels would become sources of data and communication channels for customers to make decisions, even to make purchases and get services without being limited by time and place. Through the integrated solutions offered by MII, companies can improve services and customization for customers as well as in responding to questions/handling complaints that arise through various communication applications such as: WhatsApp, LINE, Twitter, Telegram, Facebook Messenger, Live Chat, in addition to standard medium such as an integrated contact center & email.
Sjafril Effendi as President Director of MII and Director of MTDL, said, "Every company face new challenges with digitization and the many digital platforms, so there is demand for a space that is able to integrate various platforms in an efficient but personal way, namely an Omnichannel. The Omnichannel solution integrates all channels owned by the brand into one platform that will make it easier for both parties. Then, integrating services from all channels owned by the business into one centralized console platform (messenger, social media, voice, email, call center, community, website, digital review, and feedback)."
The Omnichannel trend enables various business management processes, from customer relationship management, order management, to integrated logistics/supply chain. The goal is to provide customer satisfaction, better customer retention, more interaction options, process automation, connection with all historical data, conversations, improve customer insight, speed up the process of handling or support customers, expand the customer service area widely, and to improve customer service sales. MII is currently implementing it in the e-commerce, marketplace, travel, telecommunications, financial services, property, hospitals, education, logistics and transportation industries.
Sjafril Effendi added, "MII with hundreds of world-class certified consultants and a high level of partnership with various world technology providers, as well as more than 50+ World Class Technology partners expects that the Omnichannel solution for the business world can increase awareness, interest, consideration, evaluation, to the execution of customer purchases. In offering Omnichannel solutions, MII collaborates with various world-class partners, including: Salesforce, Microsoft Dynamic 365 CRM, 3Dolphins, and Qiscus. MII is supported by 3Dolphins and Kata.ai implements Omnichannel customer service that enables chatbot services or broadcast systems."
Susanto Djaja as the President Director of MTDL said, "We are grateful to be one of the first and largest companies in the technology sector to be listed on the IDX in terms of revenue and net profit based on the end of 2020 data. In fact, by the end of June 2021, we managed to achieve Revenue of IDR7.7 trillion, or a YoY increase of 23.5% compared to the previous year's period of IDR6.2 trillion. Even in terms of Net Profit, we were still able to grew by 55.6%, or reached IDR242.8 billion as of June 30, 2021 compared to IDR156 billion a year earlier."
According to a research statement in the Forbes1) article, 9 out of 10 global customers want Omnichannel services and Omnichannel channel subscribers spend 10% more online than single channel subscribers. So MTDL through MII initiated the launch of Omnichannel with a digital platform to support the digital transformation of various companies and is expected to support the Company's performance in the future. "We will continue to refine our ICT products and solutions. Along with continuing to add global partners. It is expected that MTDL can continue to be the best digital solution and distribution company in Indonesia," concluded Susanto.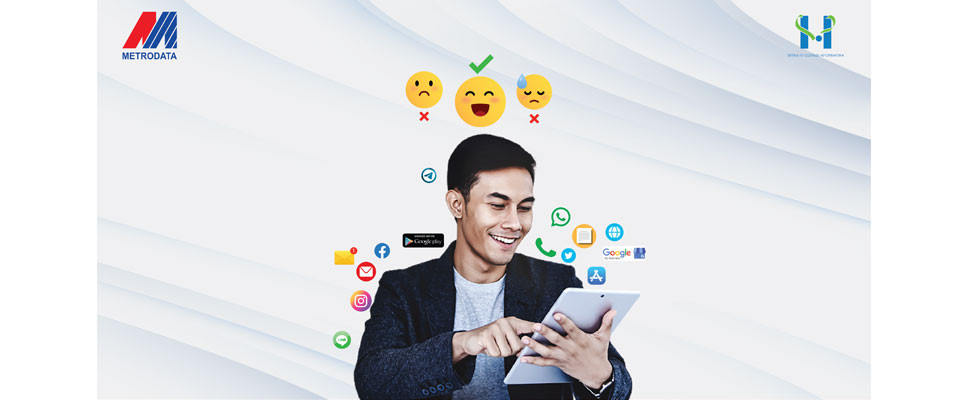 About PT Metrodata Electronics Tbk
PT Metrodata Electronics Tbk ("the Company") a public listed company in Indonesian Stock Exchange since 1990 (IDX: MTDL) is a well-known Information and Communication Technology (ICT) company in Indonesia that partners with world-class ICT companies. The Company currently has its main business unit which is the Distribution Business (Providing World-Class ICT Hardware and Software) that handles distribution to the dealers and ICT solution companies as well as running an e-commerce business. The distribution network covers more than 150 cities across Indonesia and has more than 5,200 channel partners with more than 100 brands of world-class IT products and services; the Solution and Consulting Business (Digital Solution Provider to Help Companies Achieving Digital Transformation) provides complete ICT solutions based Metrodata's 8 pillars of Digital Solution, which are Cloud Services, Big Data & Analytics, Hybrid IT Infrastructure, Security, Business Application, Digital Business Platform, Consulting & Advisory Services, and Managed Services to support digital business transformation.
About PT Mitra Integrasi Informatika
PT Mitra Integrasi Informatika ("MII") was established on March 1, 1996, which is a subsidiary of PT Metrodata Electronics, Tbk (IDX: MTDL). As a Digital Solution Provider company, MII offers services that focus on Cloud Services; Business Applications; Digital Business Platforms; Big Data & Analytics; Security; Hybrid IT Infrastructure; Consulting & Advisory Services; and Managed Services. Based on best industry practices and applying international quality standards ISO 9001:2015 and ISO/IEC 27001:2013. MII also builds strategic alliances with national, regional and world technology business partners. For more information, visit www.mii.co.id.
1)https://www.forbes.com/sites/blakemorgan/2019/05/13/40-stats-on-digital-transformation-and-customer-experience/?sh=7132fbb6475e
For further information, please contact:
Randy Kartadinata

Corporate Secretary

Phone: (62-21) 29345 888

LinkedIn: PT Metrodata Electronics Tbk

IG: @metrodata_electronics

FB: Metrodata

Melani Dwi Nastiti / Gita Hardiyanti

Public Relations / Media Relations

Phone: (62-21) 29345 888 / Gita: (62) 81282033227

Email : Melani.Nastiti@metrodata.co.id

Lidya Dewi

CRM Division Manager

PT Mitra Integrasi Informatika

Priadi

Business Consulting Services Division Manager

PT Mitra Integrasi Informatika