MTDL Optimistic to Achieve Double Digit Sales Growth in 2022
The Growth Trend of the ICT Industry Will Continue to Drive the MTDL's Sales
Jakarta, November 24th 2022 — PT Metrodata Electronics Tbk (MTDL), an issuer of Digital Information and Communication Technology (ICT), especially Digital Solutions & Consulting, also Digital Distribution, optimistic that it will be able to achieve the sales growth target of 15% in 2022. The Company sees that the opportunity to increase sales is increasingly open as the trend of growth in the information and communication technology (ICT) industry continues to rise. To that end, MTDL will continue to maximize market opportunities while supporting digital resilience in Indonesia.
"In market conditions that are already showing signs of returning to pre-pandemic levels, we will focus on optimizing market opportunities in good ways," said President Director of MTDL, Susanto Djaja in a public expose on Thursday, November 24.
Meanwhile, the challenge of increasingly sophisticated digital attack threats has made the issue of digital resilience even more important and urgent. For this reason, MTDL hopes to play a role in increasing national digital resilience through Company's solutions and consulting services that are innovative and relevant to the current development of technological transformation, such as IT Security in the midst of global cyber-attacks, Cloud Hyperscaler (Azure, AWS, Google Cloud), as well as software subscriptions and SaaS (software as a service).
The increasingly tight competition in the ICT business forces MTDL to perform agile adoption of new technologies to respond to the demands of changing market developments. Agile adoption is a method of developing software or software in an iterative (repetitive) and gradual manner according to client needs.
To date, MTDL has made a strong foothold to maximize revenue until the January-September 2022 period, where the Company's revenue increases by 25.7% YoY to IDR15.2 trillion. Of the Company's total revenue, the revenue from distribution business was IDR11.9 trillion, increase 24.7% YoY. Meanwhile, the revenue from the solution and consulting business was at IDR3.6 trillion, an increase of 25.8% YoY.
The increase in revenue in the distribution business unit was contributed mainly from sales of Notebook and PC which grew by 13%, as well as sales of smartphone products which grew by 51% and gaming products by 16%. The Company's product diversification efforts in the distribution business unit are expected to continue to support sales growth going forward. Meanwhile, growth in the solutions business unit was mainly supported by sales to the financial services sector, which grew 55%.
Up to 3rd quarter 2022, the Company book a net profit of IDR371.4 billion, an increase of 5.7% from the same period of the previous year.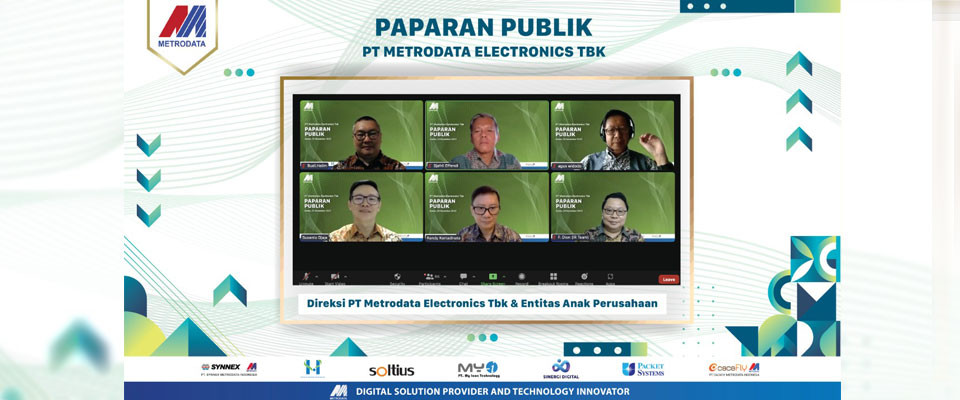 About PT Metrodata Electronics Tbk
PT Metrodata Electronics Tbk ("the Company") a public listed company in Indonesian Stock Exchange since 1990 (IDX: MTDL) is a leading provider of solutions and consulting services, as well as the distribution of Information and Communication Technology (ICT) and Digital products and services in Indonesia. partnering with world-class ICT companies.
It currently has its main business which is the Digital Distribution Business (Providing World-Class ICT Hardware and Software) that handles distribution to the dealers and ICT solution companies as well as running an e-commerce business. The distribution network covers more than 150 cities across Indonesia and has more than 5,200 channel partners with more than 100 brands of world-class IT products and services.
Another main business is the Digital Solutions and Consulting Business (Digital Solution Provider to Help Companies Achieving Digital Transformation) provides complete ICT solutions based Metrodata's 8 pillars of Digital Solution, which are Cloud Services, Big Data & Analytics, Hybrid IT Infrastructure, Security, Business Application, Digital Business Platform, Consulting & Advisory Services, and Managed Services to support digital business transformation.
For further information, please contact: