MTDL Plan to Strengthen National Digital Ecosystem
Towards a Leading Digital Economy Hub & Enabler
Jakarta, December 17, 2021 - PT Metrodata Electronics Tbk ('MTDL'), an Information and Communication Technology ("ICT") listed company in the field of digital solutions and hardware as well as software distribution, continue to strengthen the national digital ecosystem towards a leading digital economy hub & enabler. This new direction of MTDL is reflected through its new vision and mission to realize Indonesia 4.0.
Susanto Djaja as the President Director of MTDL said, "MTDL continues to develop by looking at new directions to strengthen the role of MTDL in the national digital ecosystem. So MTDL needs to update its vision and mission so that it can make a bigger contribution in helping digital transformation in Indonesia. This is following MTDL's new vision, namely as a leading digital economy hub & enabler. It is expected that we can realize the acceleration of Indonesia 4.0."
MTDL's new mission is to drive the advancement of digital technology in Indonesia, deliver innovative digital transformation solutions and excellent service to customers and business partners, as well as maximize shareholder value and build an ideal environment to work in.
For information, MTDL has also obtained shareholder approval to carry out a stock split plan at the Extraordinary General Meeting of Shareholders (EGMS) which was held on December 16, 2021. The MTDL stock split was agreed with a ratio of 1:5 and will then wait for approval from the Capital Market Authority to effective.
The stock split plan aims to attract investors, one of which is retail investors. As we know, the number of retail investors is currently increasing, thus opening up opportunities for them to participate in owning MTDL shares. With this stock split, the nominal per share of MTDL which was previously IDR50,- becomes IDR10,-, making the new share price more affordable and the trading liquidity of MTDL shares will hopefully also increase, in line with the company's good performance.
Randy Kartadinata as Director of MTDL, said, "On the other hand, MTDL's performance in 2021 also continues to grow, despite the Enforcement of Community Activity Restrictions ('PPKM') policy. As of the Third Quarter of 2021, MTDL managed to record revenue of IDR12.1 trillion, an increase of 20.9% and MTDL's net profit also increased by 31.3% or to IDR351.4 billion compared to the same period in the previous year. This growth achievement was due to the contribution of the two MTDL business units, namely the Distribution business unit and the Solutions & Consulting business unit."
Sales growth contribution in the Distribution business unit was driven by product diversification, especially Chromebooks and gaming products. In addition, the Distribution business unit also runs partnerships with global partners for other products. On the other hand, in the Solutions & Consulting business unit, one of the revenue contributions is supported by the provision of products and the implementation of the KOMI (BI-FAST System MII Converter) project, Cloud sales, and other 8-pillar MTDL solutions which also continue to increase amid the pandemic. Currently, the role of the MTDL solution business is also getting bigger for the transformation of the banking industry which continues to grow towards digital banking.
Susanto said, "We expected that to support the national digital ecosystem, MTDL can continue to be a trusted partner and add to our partnership portfolio. For example, recently MTDL was chosen to be a partner of Amazon Web Services (AWS) in bringing innovative and comprehensive cloud solutions to organizations in Indonesia."
MTDL in order to support the national digital ecosystem also invests in venture capital and mature start-up companies. The expectation is for MTDL to continue to encourage the acceleration of digitalization in Indonesia.
"In the future, MTDL will continue to score better performance. Until the end of 2021, MTDL will record more growth than previously targeted. MTDL is optimistic that in 2021 both sales and net profit will increase significantly. Hopefully MTDL can continue to provide ICT solutions and support digital transformation to strengthen the national digital ecosystem," concluded Susanto.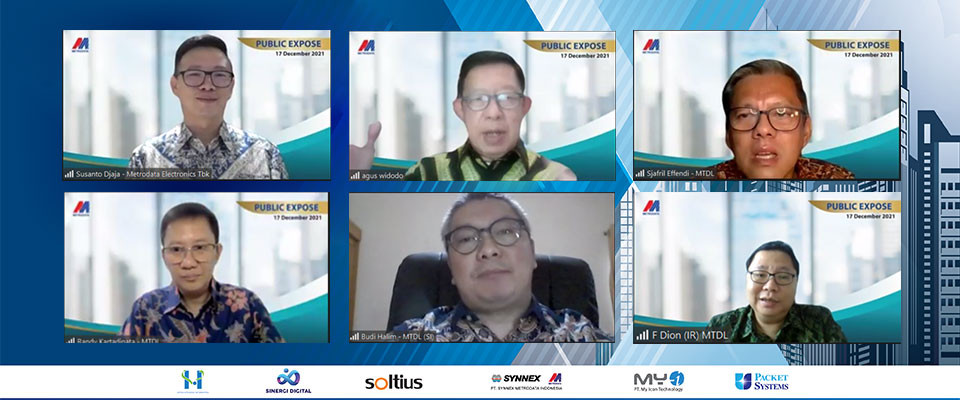 About PT Metrodata Electronics Tbk
PT Metrodata Electronics Tbk ("the Company") a public listed company in Indonesian Stock Exchange since 1990 (IDX: MTDL) is a well-known Information and Communication Technology (ICT) company in Indonesia that partners with world-class ICT companies. The Company currently has its main business unit which is the Distribution Business (Providing World-Class ICT Hardware and Software) that handles distribution to the dealers and ICT solution companies as well as running an e-commerce business. The distribution network covers more than 150 cities across Indonesia and has more than 5,200 channel partners with more than 100 brands of world-class IT products and services; the Solution and Consulting Business (Digital Solution Provider to Help Companies Achieving Digital Transformation) provides complete ICT solutions based Metrodata's 8 pillars of Digital Solution, which are Cloud Services, Big Data & Analytics, Hybrid IT Infrastructure, Security, Business Application, Digital Business Platform, Consulting & Advisory Services, and Managed Services to support digital business transformation.
For further information, please contact:
Randy Kartadinata

Corporate Secretary

Phone: (62-21) 29345 888

LinkedIn: PT Metrodata Electronics Tbk

IG: @metrodata_electronics

FB: Metrodata

Melani Dwi Nastiti / Gita Hardiyanti

Public Relations / Media Relations

Phone: (62-21) 29345 888 / Gita: (62) 81282033227

Email : Melani.Nastiti@metrodata.co.id