MTDL Through MII Link with LinkedIn as Alliance Partner
Develop LinkedIn Talent Solutions with Metrodata Academy
Jakarta, July 23, 2021—Today, digital needs have been becoming essential. Almost all aspects of our lives are connected to digital technology, and one area that is closely related to current technological developments is the field of Human Resources (HR). The fact is that companies need to adapt technology to have high competitiveness and help increase effectiveness and efficiency in the company's business processes. In line with the development of its business portfolio, PT Mitra Integrasi Informatika ("MII"), a subsidiary of PT Metrodata Electronics Tbk (IDX: MTDL) which focuses on Business Solution & Consulting, through a division related to education, especially in the IT field, namely Metrodata Academy won the trust from LinkedIn, one of the largest professional networking platforms in the world, as a LinkedIn Alliance Partner for LinkedIn Talent Solution (LTS) for cross-industry market.
As a LinkedIn Alliance Partner, MII offer LinkedIn Talent Solution (LTS) consist of LinkedIn Talent Insight, Recruiter, Job Slots, Career Pages. Then, LinkedIn Learning Solution (LLS), a Learn in-demand skills for more than 16,400 online courses with professional teachers.
Through LinkedIn Talent Solution, companies can take advantage of the LinkedIn Economic Graph of 16 million professional members from 77,000 companies. The recruitment process also becomes faster and more qualified because the position title database is always updated by LinkedIn members. Moreover, lately the trend of digital online recruitment has increased due to the Covid-19 pandemic. The CV selection process, testing, interviews, and salary offerings are also carried out digitally and online.
LinkedIn Learning Solution is the solution for the online training trend, especially during this pandemic. The training is carried out close to 100% online because of the enforcement for people movement restriction during pandemic. Content with various topics, both soft skills training and technical training, with interesting delivery methods using animation and video. There are more than 16,400 LinkedIn Learning courses in 7 languages taught by credible industry experts and 60+ new course added every week.
Quoted from Talentics about The Future of Hiring: Prediction of Recruitment Trends in 2021*), it is said that technological developments in the HR and recruitment fields greatly affect many things. In 2020 many companies were 'forced' to make massive changes caused by Covid-19. With the pandemic, many companies that previously still used conventional methods in their business processes had to start following the latest trends by using the technologies. The Covid-19 pandemic cause changes in recruitment trends in 2021, for example war for talent increasing in intensity driven by the pandemic. Speed and efficiency are the keys to winning top talents, conducting virtual recruiting, and remote work will continue.
"The concept of digital technology is inseparable from 3 important components, namely people, process, technology. To go towards digital transformation, organizations must ensure the readiness of their digital skills and talents. That's why we partner with LinkedIn to become a generator to meet the right talent. As a provider of technology products and services, we also have to ensure the technologies can be implemented properly and with capable people," said Herryanti Herman, Director of PT Mitra Integrasi Informatika.
"With Metrodata Academy's growing business portfolio, we are very proud to be a LinkedIn Alliance Partner. This partnership is expected to expand Metrodata Academy's solutions portfolio related to Self-Learning Subscriptions and Talent Recruitment tools. In addition, this partnership is able to add value to existing training solutions and make LinkedIn Learning Subscription an added value for training and projects that we can offer to customers," said Marlina Je, Head of Metrodata Academy PT Mitra Integrasi Informatika.
Metrodata Academy is an innovative and creative product initiated by the collaboration of the Application Development Division, Certified Training, HR and Managed Service Business Unit. Metrodata Academy remain in the education field whereas education is not only carried out within the campus environment, but can be conducted also through training outside the campus. As a Digital Education Provider, Metrodata Academy always provides the best digital education experience. The solutions offered by Metrodata Academy are not only training and certification, but have been developed to Academy Program solutions for campus partners, Internship and IT Camp, Self-Learning Subscriptions and Virtual Lab Subscriptions programs, as well as various other modules.
*) https://talentics.id/blog/talentics/recruitment-and-employer-branding/the-future-of-hiring-prediksi-tren-rekrutmen-di-tahun-2021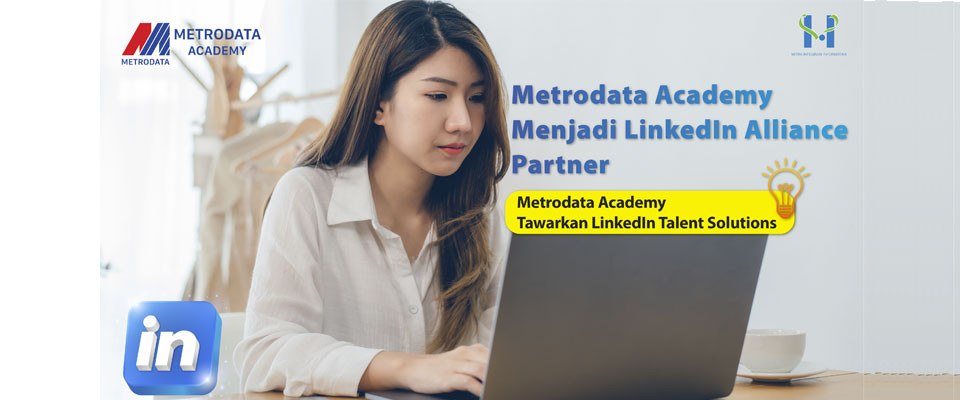 About PT Metrodata Electronics Tbk
PT Metrodata Electronics Tbk ("the Company") a public listed company in Indonesian Stock Exchange since 1990 (IDX: MTDL) is a well-known Information and Communication Technology (ICT) company in Indonesia that partners with world-class ICT companies. The Company currently has its main business unit which is the Distribution Business (Providing World-Class ICT Hardware and Software) that handles distribution to the dealers and ICT solution companies as well as running an e-commerce business. The distribution network covers more than 150 cities across Indonesia and has more than 5,200 channel partners with more than 100 brands of world-class IT products and services; the Solution and Consulting Business (Digital Solution Provider to Help Companies Achieving Digital Transformation) provides complete ICT solutions based Metrodata's 8 pillars of Digital Solution, which are Cloud Services, Big Data & Analytics, Hybrid IT Infrastructure, Security, Business Application, Digital Business Platform, Consulting & Advisory Services, and Managed Services to support digital business transformation.
About PT Mitra Integrasi Informatika
PT Mitra Integrasi Informatika ("MII") was established on March 1, 1996, which is a subsidiary of PT Metrodata Electronics, Tbk (IDX: MTDL). As a Digital Solution Provider company, MII offers services that focus on
Cloud Services; Business Applications; Digital Business Platforms; Big Data & Analytics; Security; Hybrid IT Infrastructure; Consulting & Advisory Services; and Managed Services. Based on best industry practices and applying international quality standards ISO 9001:2015 and ISO/IEC 27001:2013. MII also builds strategic alliances with national, regional and world technology business partners. For more information, visit www.mii.co.id.
For further information, please contact: