PT Synnex Metrodata Indonesia Inaugurates the Cisco Meraki Experience Center located in Jakarta and Surabaya
Today, SMI officially announced the use of Cisco Meraki Experience Centers located in Jakarta and Surabaya
Jakarta, 11 April 2023 — PT Synnex Metrodata Indonesia ("SMI")—a subsidiary of PT Metrodata Electronics Tbk (IDX: MTDL) which focuses on the Digital Distribution Business, today officially announced the use of Cisco Meraki Experience Centers located in Jakarta and Surabaya. This is one of the company's innovations in developing the Digital Distribution Business. Cisco Meraki continues to grow and become a popular cloud-based IT solution among companies and industries, followed by growing and increasing demand for Cisco Meraki in Indonesia.
Cisco Meraki is a cloud-based network solution owned by Cisco Systems that offers a variety of products and services that can be configured and managed online, such as wireless access points, Ethernet switches, security appliances, security cameras, and mobile device management. In addition, Cisco Meraki has advantages, such as ease of use, scalability, security, and integration with other Cisco technologies. Cisco Meraki is suitable for various business industries, such as branch offices, schools, hotels, restaurants and retail.
"Seeing the development and demand for Cisco Meraki in Indonesia which continues to increase, it is very important for us to present the Cisco Meraki Experience Center where customers can see and experience directly using Cisco Meraki Full Stack products, such as SDWAN, Routers, Switches, Cameras, Sensors and Access Points with specific use cases that we have prepared," said Lie Heng, Director of PT Synnex Metrodata Indonesia.
"The choice of location is also a consideration for us. Considering that the majority of our partners and customers are in Jakarta, supported by a huge market potential in East Java and its surroundings, as well as the position of owning a branch office in Surabaya, the choice of locations in these two big cities is very appropriate for us, so that Business Partners can see the product directly of Cisco Meraki Full Stack products. SMI will collaborate with a reliable System Integrator who specializes in cloud networking, and is fully supported by Cisco Systems, and will continue to actively expand the Cisco Meraki market in Indonesia," Lie Heng added.
"Businesses in Indonesia are at the forefront of their digitalization journeys. As they continue to build a digital-first model to keep pace with the needs and expectations of consumers in a dynamic and fast-moving digital space, the Cisco Meraki Experience Center will serve as a platform to showcase how they can leverage integrated digital solutions to simplify their IT operations and create a seamless, secure, and scalable customer experience journey," said Marina Kacaribu, Managing Director, Cisco Indonesia.
As a Cisco Meraki Authorized Distributor, SMI not only sells/distributes products, but also provides customers with an experience on how Cisco Meraki can assist them in responding to business demands. In addition, there are no requirements for using the Cisco Meraki Experience Center.
There are many advantages when we use Cisco Meraki, which is that we can focus more on the business we are running because this product can be configured via the cloud and has security features to lock ports and communications across the network.
SMI carries out the Go to Market Framework strategy in line with the development of market recognition and utilization of Channel Sales opportunities that reach more than 150 cities in 21 strategic areas in Indonesia through the support of more than 5,200 channel partners and ensure that they can provide a variety of product services and solutions with world-class quality.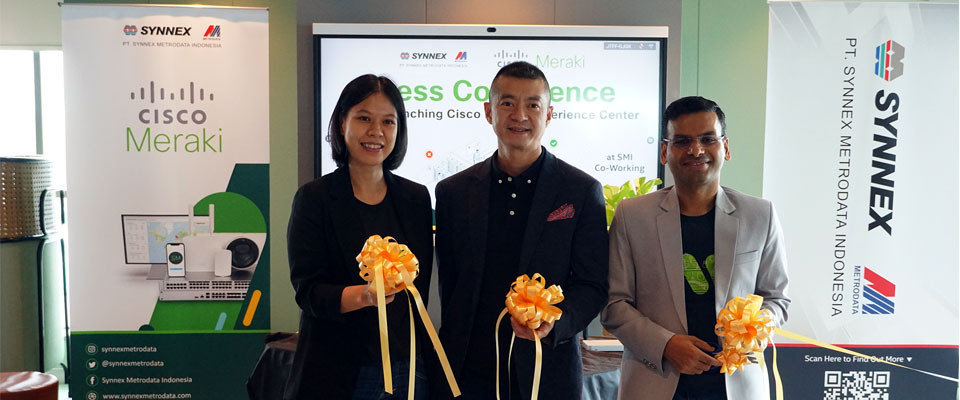 About PT Synnex Metrodata Indonesia
PT Synnex Metrodata Indonesia ("SMI"), is a joint venture between PT Metrodata Electronics, Tbk. (IDX: MTDL) and Synnex Technology International Corp., established in early 2011. SMI focuses on Digital Distribution Business with 2 (two) businesses (Solution and Distribution), and has built strategic partnership with world-class information technology companies. SMI has seven distribution centers in Jakarta, Bandung, Surabaya, Semarang, Yogyakarta, Medan, and Makassar, and supporting logistics and sales force offices across major cities of Indonesia. With their efficient and effective services, supported by dealers and resellers, SMI are ready to serve various needs of customers. For more information about SMI, visit www.synnexmetrodata.com
About Cisco
Cisco (NASDAQ: CSCO) is the worldwide leader in technology that powers the Internet. Cisco inspires new possibilities by reimagining your applications, securing your enterprise, transforming your infrastructure, and empowering your teams for a global and inclusive future. Discover more on The Newsroom and follow us on Twitter at @Cisco.
Cisco and the Cisco logo are trademarks or registered trademarks of Cisco and/or its affiliates in the U.S. and other countries. A listing of Cisco's trademarks can be found at http://www.cisco.com/go/trademarks. Third-party trademarks mentioned are the property of their respective owners. The use of the word partner does not imply a partnership relationship between Cisco and any other company.
For more information, please contact: