SMI and Allied Telesis Offer High-Value Solutions to Support Network Communications Industry for Indonesia Market
Allied Telesis continues its global expansion into the Asia market by building their own plants in Indonesia, Singapore and China have strong business commitments to the focused market.
Jakarta, 14 July 2022 – PT Synnex Metrodata Indonesia ("SMI")--one of the subsidiaries of PT Metrodata Electronics Tbk (IDX: MTDL) which focuses on the Digital Distribution Business today announced its partnership with Allied Telesis as a premium distributor for Indonesia market. Allied Telesis, a global leader in connectivity solutions and intelligent networking tools has been serving the needs of the network communications industry for over 35 years. Today, Allied Telesis offers high-value solutions focused on networking and security. Self-defend switche and wireless access points are provided by Autonomous Management Framework/AMF-Security for easier and faster response to threats.

Allied Telesis solutions are integrated with over 30 security vendors, including Barracuda, Fortinet, Nozomi and Sophos. Furthermore, SMI has been a distribution specialist for the above security vendors. This will create a great alliance in the cyber security solutions to the Indonesia market. In addtion to cyber security, Allied Telesis also provides a stable and seamless Wi-Fi solutions based on AI technology.

Indonesia is expected to have the fastest-growing IT spending in the Asia Pacific region over the next few years. The revenue in the IT Services market is projected to reach US$3.60bilion in 2022 and is expected to show a compound annual growth rate (CAGR 2022-2027) of 11.86%, resulting in a market volume of US$6.31 billion by 20271. Driven by business needs, Allied Telesis continues its global expansion to Asia market by building their own plants in Indonesia, Singapore, and China delivering strong business commitments to the market. Allied Telesis is a top two switch provider in Japan and focusing on Healthcare, Education, Government and Manufacturing.

PT. Synnex Metrodata Indonesia ("SMI"), a subsidiary of Metrodata Group, with a network spanning across 20 strategic areas in Indonesia covering 150+ cities, and 5200+ channel partners will introduce Allied Telesis solutions to meet the expectations of any industry's critical mission including Manufacturing – to run a smarter factory environment, Government – to navigate the challenges and implementing IoT solutions that deliver the performance and return-on-investment, Education – using technology to add value and enhance the educational experience and Healthcare – digital solutions from the ER to the OR to accelerate the business operations.

"This partnership continues SMI's successful strategy of being at the forefront to support digital transformation in Indonesia. The partnership will bridge the Allied Telesis solution and technology to the market, together we will help clients solve critical business problems in areas such as networking, security, and business continuity," explains Lie Heng, Director of PT Synnex Metrodata Indonesia.

A new partnership between SMI and Allied Telesis will introduce Allied Telesis core technologies including Ethernet Switches (Core/Distribution/Access), Industrial Switches, Wireless Access Points, SDN Controller, Unified Network Monitoring and Operating Platform. Furthermore, the technology is supported by one business development Manager and two certified engineers. This will indicate that if there are any problems and take corrective action in a timely manner.

The Allied Telesis solutions will offer critical business needs, such as:
Unique automation tools for cybersecurity, Wi-Fi, SD-WAN and LAN.

Providing unlimited stock to fulfill the customer needsand short lead time, as its factory is presence in Indonesia

Cost-Effective products.

New technology: Allied Telesis provides solutions focused on networking and security. In particular, AMF-Security can be self-defences switches and wireless access points for easier and faster response to threats.
Benjamin Teh, ASEAN South Regional Director Allied Telesis said "In line with Allied Telesis's vision and strategy, this new chapter in our partnership with SMI is an affirmation of our strategy in responding to a changing world. Indonesia is a strategically important market and we will focus our services for manufacturing, government, education and healthcare markets in Indonesia. With IT infrastructure development as the top priority for economic growth in Indonesia, we are optimist that our solution will empower the IT industry especially in network communications industry in Indonesia."

Allied Telesis also recognizes the importance of protecting the global environment and promoting the conservation of biodiversity. Allied Telesis creatively utilize technology for sustainable social progress and to protect the environment and is committed to passing down a healthy global environment to the next generation.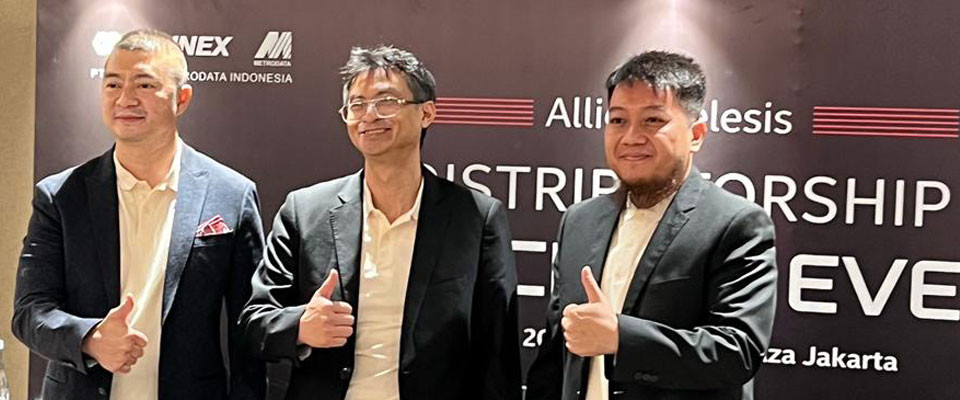 About Synnex Metrodata Indonesia (SMI)
PT Synnex Metrodata Indonesia ("SMI"), is a joint venture between PT Metrodata Electronics, Tbk. (IDX: MTDL) and Synnex Technology International Corp., established in early 2011. SMI focuses on ICT Distribution with 2 (two) businesses (Solution and Distribution), and has built strategic partnership with world-class information technology companies. SMI has seven distribution centers in Jakarta, Bandung, Surabaya, Semarang, Daerah Istimewa Yogyakarta, Medan, Makassar, and supporting logistics and sales force offices across major cities of Indonesia. With their efficient and effective services, supported by dealers and resellers, SMI are ready to serve various needs of customers. For more information about SMI, visit www.synnexmetrodata.com
About Allied Telesis
With a portfolio of products and technologies providing IoT and SDN-enabled solutions for enterprise, government, education and critical infrastructure customers, Allied Telesis is the smarter choice. It is Envigilant™ managed services division delivers customized, state-of-the-art IoT solutions at the edge, empowering innovation, improving process agility and helping build a competitive advantage for customers globally. We are committed to providing our customers with solutions designed and built to the highest standards and quality. Our manufacturing conforms to ISO 9001 standards and all of our facilities adhere to the strict ISO 14001 standard to ensure a healthier planet.
For detail information, please contact :