SMI Official Distributor of Networking BDCOM Product to Market Ranges of Ethernet Switch & GPON Technology
SMI announced new strategic partnership as a Official Distributor of Networking BDCOM Product
Jakarta, 16 February 2022—PT Synnex Metrodata Indonesia ("SMI")—a subsidiary of PT Metrodata Electronics Tbk (IDX: MTDL) that focus on Digital Information and Communications Technology (ICT), today announced its latest strategic partnership with Shanghai Baud Data Communication Co. Ltd ("BDCOM"), is one of the leading suppliers of Networking and Communication solutions in China. In this partnership, SMI appointed by BDCOM as Official Distributor serves ranges networking Ethernet Switch and GPON Technology market to cross industry of enterprise company to expand market reach in Indonesia.
BDCOM had OEM/ODM serving a lot of global brands, such as BDCOM switches and routers, including PON and Optical Network have been widely applied in various industries in China and more than 100 foreign countries.
BDCOM's product has helped the company grow rapidly in many countries. BDCOM product are developed and manufactured by ourselves so give excellence with cost effective with superior performance and competitive price. BDCOM software platform is open-platform product so compatible with other types of product variety in the market. BDCOM platform operation system also similar with international standard so that it operated. Moreover, BDCOM has 3 big manufacturing production machines and meet the need of partner and user which can guarantee high product quality and short lead time.
"Network device is was the main companies connected to a computer can exchange data. We are very delighted appointed by BDCOM as Official Distributor to market ranges product of Networking Ethernet Switch and GPON Technology in Indonesia. As the first step, we will focus on network switch segment for Small to Medium Enterprise's market and afterwards we will entry we are going in a segment of Consumer Fiber Optic Network. As a Official Distributor, beside to diversifications products, we will present official BDCOM's online store which we will collaborate with major powerhouse online store & marketplaces to provide easy access of BDCOM's product with official warranty for partner and customer. We also to give an option for partner due to meet the needs of the product in enterprise segments for network product with premium quality but with pricing package and competitive delivery time at the same time providing options the network product that can fulfill a need when supply the network was difficult due to the crisis chip shortage", said Lie Heng, Director of PT Synnex Metrodata Indonesia.
"BDCOM never stop innovation and keep developing new products and solutions using lates technology. Right now, we are focus on Fiber Optic Technology to Home Office & Small Business to raise the broadbands quality. One of them using integrated gateway and network solution for enterprise user to reduce their network maintenance cost also provide industrial networking solution to some other industries like power, public service", said Tao Ran, General Manager of Shanghai Baud Data Communication Co. Ltd.
Together with BDCOM, SMI will collaborate more closely with market development human resources and team of technical product who certified to be able to provide the response quickly and correctly in accordance with the need users.
SMI's Go to Market Framework strategy is in line with developing an intimate knowledge of the market and takes advantage of Channel Sales opportunities with coverage in more than 150 cities in 21 strategic regions across Indonesia. With the support of over 5,200 partners, SMI ensures the availability of its rich, world-class range of products and solutions.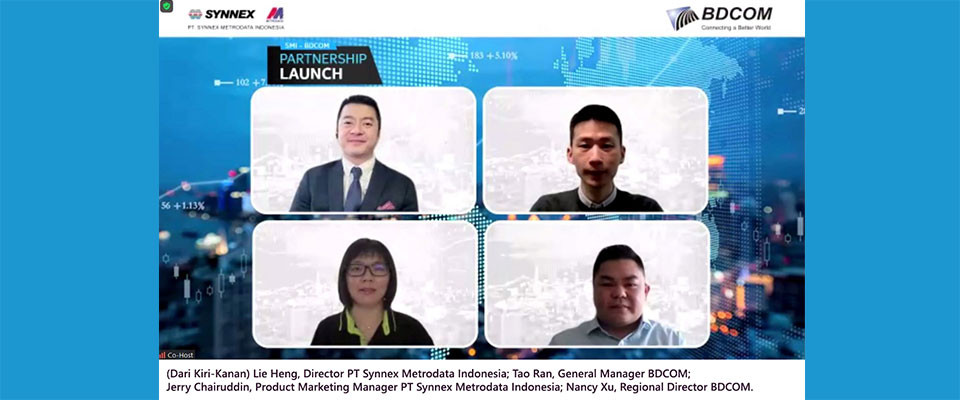 About PT Synnex Metrodata Indonesia
PT Synnex Metrodata Indonesia ("SMI") is a joint venture agreement between PT Metrodata Electronics, Tbk (IDX: MTDL) and Synnex Technology International Corp, which was formed in early 2011. SMI focuses on ICT distribution with two business lines namely Solutions and Distribution, and partnering with world-class IT companies. SMI has seven distribution centers, including in Jakarta, Bandung, Surabaya, Semarang, Yogyakarta, Medan and Makassar and is supported by logistic center and sales force offices spread across major cities in Indonesia. With efficient and effective services, supported by dealers and resellers, SMI is ready to serve the various needs of its customers. Complete information about SMI, visit www.synnexmetrodata.com
About BDCOM
Shanghai Baud Communication Co. Ltd. (BDCOM) founded in 1994, is now one of China's leading suppliers of networking and communication solutions. BDCOM invested all by itself the first X.25 NIC and the first commercialized router in China. Since then, BDCOM has been in the vanguard of networking and communications technologies. Up to now, BDCOM's switches, EPON products, routers and network security devices have been widely applied in many areas like the banking system, education system, government and even the defense system in China. BDCOM Have already participated in in good progress technology network and communication in more than 100 nations.
For more information, please contact: