SMI to expand range of Infrastructure (Hybrid IT), Collaboration, Network & Security as VAD for Huawei Technologies
SMI Electronics Tbk (IDX: MTDL) which focuses on technology distribution and information and communication technology (ICT) – today announced a new strategic partnership as VAD of PT Huawei Tech Investment ("Huawei Indonesia"), a leading global provider o
Jakarta, 24 September 2021—PT Synnex Metrodata Indonesia ("SMI") – one of the subsidiaries of PT Metrodata Electronics Tbk (IDX: MTDL) which focuses on technology distribution and information and communication technology (ICT) – today announced a new strategic partnership as Value Added Distributor ("VAD") of PT Huawei Tech Investment ("Huawei Indonesia"), a leading global provider of ICT infrastructure and smart devices.
As Value Added Distributor, SMI will expand its market share for Infrastructure (Hybrid IT), Collaboration, and Network & Security, focusing on the key areas of Data Communication (Routing & Switching, WLAN, Security, Datacom); Transmission & Access (Transmission, Access); Enterprise IT (Storage, Cloud Computing, Intelligent Computing, Data Center); Intelligent Vision and Collaboration (IV, UC, VC, EC); and Digital Power (DCF, UPS). Together with Huawei, SMI aims to reach all industries, including financial services, commerce, and professional services, as well as complement each other's strengths, support one another, achieve mutual success, and create a larger market.
Huawei is committed to customer-centric principles. Serving the customers is prioritized in nearly all business operations, including researching and developing new products. In the process, Huawei also sees that connectivity and computing is the foundation of the digital economy. Huawei uses two formulas to describe the complex points of industry digitalization and pinpoint the starting point of digitalization to determine the best-case scenarios for customers based on services strategy and the public sector.
As an infrastructure and smart devices provider, Huawei offers the Digital Partnership Cube, developed with three perspectives in mind: firstly, Huawei will continue exploring an untapped market. Secondly, Huawei wants to tap into its partners' strengths. Thirdly, Huawei will develop an effective partnership and business model, achieve mutual growth, innovate, and create value. The end goal of Huawei's digital ecosystem model is to identify the challenges and obstacles that businesses should anticipate.
"During the pandemic, through means of digital transformation, a number of organizations and companies take advantage of ICT to support business continuity. To seize this opportunity, we are innovating and enriching our Solutions product line by joining hands with Huawei as global distributor. We are proud to have been appointed by Huawei as Value Added Distributor to market infrastructure (Hybrid IT), Collaboration, and Network & Security solutions. As the largest Value Added Distributor in Indonesia, we are always consistently giving the best services and offerings for our customers and generate more benefits for partners within the SMI ecosystem," said Agus Honggo Widodo, President Director, PT Synnex Metrodata Indonesia.
"We are honored to be able to work with Synnex Metrodata Indonesia (SMI) as the new distributor of Huawei Indonesia Enterprise Business. SMI has an illustrious experience and deep understanding of the Indonesian market. This partnership will create added value and satisfaction for customers through solutions that are developed based on each organization's needs and challenges, which reflect many different industries," said James Zeng, President of Huawei Indonesia Enterprise Business Group.
SMI will collaborate more closely with Huawei Indonesia by tapping into the potential of business partners and its Infrastructure (Hybrid IT), Collaboration, and Network & Security products, including by supplying the necessary business channels for nationwide distribution – both in traditional IT markets as well as modern markets such as e-commerce and digital platforms. SMI's Go to Market Framework strategy is in line with developing an intimate knowledge of the market and taking advantage of Channel Sales opportunities, reaching over 150 cities in 20 strategic regions in Indonesia. With the support of over 5,200 partners, SMI ensures the availability of its rich, world-class range of products and solutions.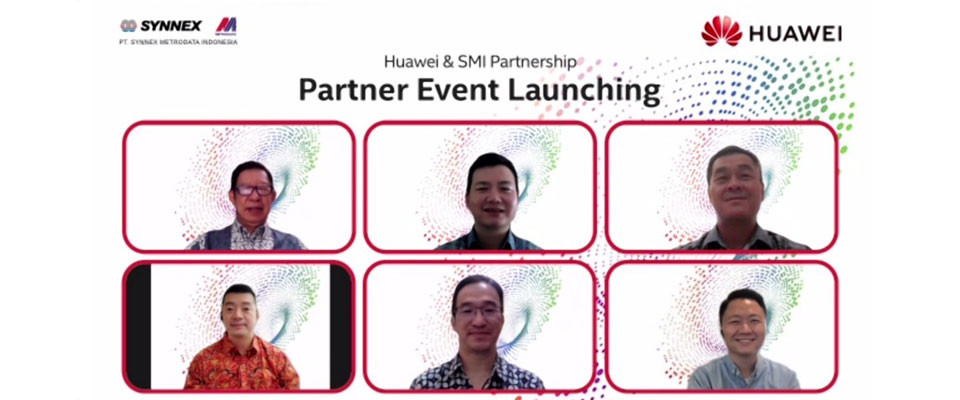 About PT Synnex Metrodata Indonesia:
PT Synnex Metrodata Indonesia ("SMI"), a joint venture agreement between PT Metrodata Electronics, Tbk. (IDX: MTDL) and Synnex Technology International Corp., established in early 2011. SMI focuses on ICT Distribution with 2 (two) of businesses: Solution and Distribution, and has built strategic partnership with world-class information technology companies. SMI has seven distribution centers in Jakarta, Bandung, Surabaya, Semarang, Daerah Istimewa Yogyakarta, Medan, Makassar, and supporting logistics and sales force offices across major cities of Indonesia. With their efficient and effective services, supported by dealers and resellers, SMI are ready to serve various needs of customers. For more information about SMI, visit www.synnexmetrodata.com
About Huawei:
Founded in 1987, Huawei is a leading global provider of information and communications technology (ICT) infrastructure and smart devices. Huawei's mission is to bring digital to every person, home and organization for a fully connected, intelligent world. In fields of communications networks, IT, smart devices, and cloud services, we provide customers with competitive, secure, and reliable end-to-end portfolio of products, solutions, and services. Through open collaboration with ecosystem partners, we create lasting value for our customers. At Huawei, innovation focuses on customer needs. We invest heavily in basic research, concentrating on technological breakthroughs that drive the world forward. We have more than 197,000 employees, and we operate in more than 170 countries and regions.
For more information, please visit Huawei online at www.huawei.com or follow us on:
https://www.facebook.com/huaweiforindonesia/
https://www.instagram.com/huaweiforindonesia/
http://www.huawei.com/minisite/explore-indo/en/
For more information, please contact: