Through MII, Metrodata is Ready to Become a Software Infrastructure Partner to Support Super App in the Banking Industry
MII will design and build microservices using Open Source-based DevOps for the financial industry.
Jakarta, July 16, 2021 – The swift development of digital economy in recent years has prompted most banks in Indonesia to utilize mobile apps as a way to provide services for their customers. PT Mitra Integrasi Informatika ("MII") — a subsidiary of PT Metrodata Electronics Tbk (IDX: MTDL) which focuses on Business Solutions & Consulting is ready to become a partner for the banking industry in Indonesia in preparing infrastructure and super app platforms in the context of accelerating digital transformation towards a digital bank. Through the super app framework, currently widely used by startups, a super app aims to fulfill all the needs of a user and win the market through technology.
Quoting from www.businesstimes.com.sg, in December 2020, it was said that mobile banking application users in Indonesia were estimated to grow by 36 million to 88 million users in total. Furthermore, with the Covid-19 pandemic situations greatly limiting people's mobility, this growth will be even higher.
With increasing competition and digital disruption in the banking sector, Banks need to find new ways to provide the best experience to maintain relationships and loyalty with customers, namely by presenting a super app in order to provide digital banking, which can be accessed via smartphones (Android and iOS) and browsers.
"Currently, both customers and corporations have made payments or transactions using internet banking or mobile banking technology. With the development of the era and the latest technology, super apps have emerged with the aim of fulfilling user needs and winning the market. A super app is an application that provides all services in one platform, without having to switch platforms when making transactions. This makes it easier for users who want efficiency," said Alexander Kuntoro, Director of PT Mitra Integrasi Informatika.
"Armed with competence and experience in supporting customer initiatives by adopting a cloud native application approach, MII is committed and ready to assist companies in providing software infrastructure and building microservices with DevOps for each service and payment channel. A single portal for various services with the concept of one stop shopping," said Alexander.
By building a super app, a Bank has the opportunity to become more than just a provider of all financial services (savings, deposits, wealth management (government bonds), insurance, mutual funds, credit cards, including additional credit cards, and loan accounts) and also encourages growth through a partnership ecosystem business model that can be established with FinTechs or various business actors from other industrial sectors.
Through the super app, the Bank can provide to the customers from financial needs, lifestyle, market place, travel, phone credit top up, data packages, electronic money top up, e-wallet top up, payment of various monthly bills (electricity, telephone, water, etc.), ticket purchases, hotel reservations, e-commerce, payment of education fees, to purchase of game vouchers, and even Government services (eg 'BPJS' & taxes). This service will continue to grow and must be adaptive to customers' new habits in transactions by utilizing an Artificial Intelligence (AI) approach, to create a personal touch in accessing complete financial services.
One of the keys to the success of the super app is inseparable from the selection of the right technology platform and architecture, where the super app must have several criteria such as a short time to market, so that the Bank can respond to market changes better than competitors; transactions are processed in real time, as well as transactions related to Bank partners; and robust, can handle all incoming transactions.
In supporting the Super App infrastructure, MII collaborates with world-class technology partners, such as Red Hat OpenShift, VMware Tanzu (Pivotal), Software AG, Confluent, Dynatrace, Cloudera, Redis, Atlassian, IBM API Connect, Katalon, and several other technology partners. In addition, MII also offers cloud-based implementation of infrastructure and Super App platforms using Microsoft Azure, Google Cloud Platform (GCP), and Amazon Web Services (AWS). "In the future, as the first Digital Solution Provider company in Indonesia to provide infrastructure software implementation services for the super app, we hope to continue to support the acceleration of digital transformation towards digital banking in Indonesia," said Alexander.
In carrying out daily business operations, MII is fully supported by implementation based on industry best practices, world-class certified consultants, extensive experience and has a team that focuses on implementation in the financial industry, a high level of partnership with various world technology providers, official partners providing IT technology training solutions, and has ISO 9001:2015 & ISO/IEC 27001:2013 certifications.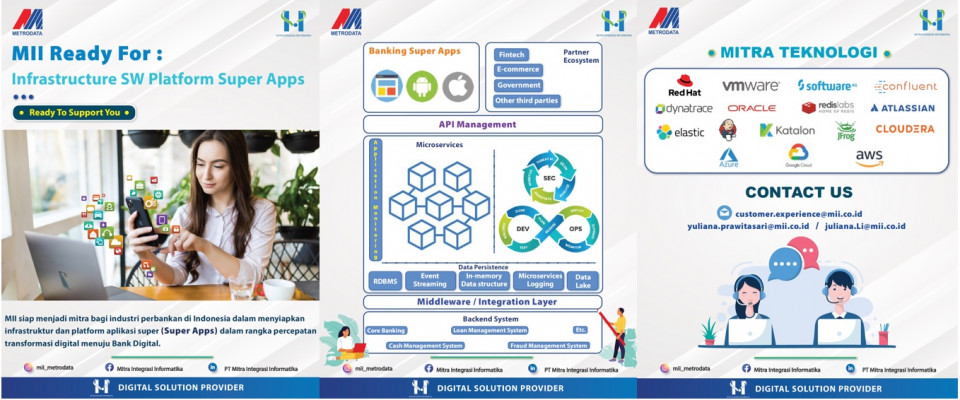 About PT Metrodata Electronics Tbk
PT Metrodata Electronics Tbk ("the Company") a public listed company in Indonesian Stock Exchange since 1990 (IDX: MTDL) is a well-known Information and Communication Technology (ICT) company in Indonesia that partners with world-class ICT companies. The Company currently has its main business unit which is the Distribution Business (Providing World-Class ICT Hardware and Software) that handles distribution to the dealers and ICT solution companies as well as running an e-commerce business. The distribution network covers more than 150 cities across Indonesia and has more than 5,200 channel partners with more than 100 brands of world-class IT products and services; the Solution and Consulting Business (Digital Solution Provider to Help Companies Achieving Digital Transformation) provides complete ICT solutions based Metrodata's 8 pillars of Digital Solution, which are Cloud Services, Big Data & Analytics, Hybrid IT Infrastructure, Security, Business Application, Digital Business Platform, Consulting & Advisory Services, and Managed Services to support digital business transformation.
About PT Mitra Integrasi Informatika
PT Mitra Integrasi Informatika ("MII") was established on March 1, 1996, which is a subsidiary of PT Metrodata Electronics, Tbk (IDX: MTDL). As a Digital Solution Provider company, MII offers services that focus on Cloud Services; Business Applications; Digital Business Platforms; Big Data & Analytics; Security; Hybrid IT Infrastructure; Consulting & Advisory Services; and Managed Services. Based on best industry practices and applying international quality standards ISO 9001:2015 and ISO/IEC 27001:2013. MII also builds strategic alliances with national, regional and world technology business partners. For more information, visit www.mii.co.id.
For more information, please contact:
Randy Kartadinata

Corporate Secretary

Phone: (62-21) 29345 888

LinkedIn: PT Metrodata Electronics Tbk

IG: @metrodata_electronics

FB: Metrodata

Melani Dwi Nastiti / Gita Hardiyanti

Public Relations / Media Relations

Phone: (62-21) 29345 888 / Gita: (62) 81282033227

Email : Melani.Nastiti@metrodata.co.id

Investor.Relation@metrodata.co.id